Planning the perfect proposal can feel very scary, but it really shouldn't be! As a wedding photographer in Colorado I've photographed plenty of proposals, engagements and weddings. I'm happy to share whatever knowledge I can! Here are some proposal tips, proposal ideas, and locations for Denver proposals that'll make planning this thing easy!
Marriage Proposal Tips
1. Plan ahead: Make sure you know what you want to do, and have everything in place prior. Things can be as simple or ornate as you want! "Whether you want an ornate dinner, a photographer, or something low key, make sure you have everything you need as early as possible Schedule, or reserve, in advance." The last thing you want is to be frantically pulling things together at the last minute.
2. Choose the right spot: Where you propose can add another layer of meaning to the whole experience. You could propose somewhere that holds special memories or significance to the two of you. If you don't have any emotional tie to where your propose, you will soon!
3. Prepare for the weather and have a backup plan: Denver is known to have some pretty random weather. Always plan ahead and have at least a loose backup plan ready to go! Transportation can run behind, reservations can get messed up, and weather can throw a wrench in any plan. If you have a dope plan B in your back pocket, you'll be far less stressed the day of.
Denver Proposal Ideas
1. Propose at a botanic garden or park – Denver has tons of beautiful parks and gardens to choose from. You can absolutely find a gorgeous outdoor space to propose in, without traveling too far at all. You can propose in one of the many diverse outdoor spaces and then go somewhere else to celebrate afterward.
2. Go on a hike- are y'all hikers? Well, Denver has got you set. There are practically an infinite amount of places to hike around Denver. Whether you want to go half a mile or 10 miles, it's got you covered. This is the ultimate option for seclusion and a proposal. It's the easiest way to find an epic location with little to no people around you. While there may not be a lot of food options on the trail, you can always plan an awesome picnic.
3. Fill a room with prints- imagine this, you rent a gorgeous Airbnb or hotel room (or maybe it's a room in your home) for you and you're soon to be fiancé. You're walking in and the room has been beautifully decorated with prints of photos from throughout your relationship. After you propose You crack open your favorite bevs and you take time to look at all of them- laugh, cry and reminisce about all the memories and stories you shared. Now it's time to embark on your next one.
4. Take them to your first date– go back to where it all started. Re-create your first date, relive those memories together and laugh about how far you've come. What a way to start this new stage of your relationship.
5. Rent a 4×4- want to go somewhere absolutely epic, but maybe it's a little too far or too difficult to get there on your feet? There are so many 4 x 4 rental companies in and around Denver. Whether you're driving it yourself or you have a professional driver to take y'all where you want to go, there are so many ridiculously beautiful places to go. What an adventure!
6. Do a scavenger hunt! You could have a scavenger hunt that ends in you proposing. Imagine your own custom-designed scavenger hunt that has y'all going to some of your favorite places around the city. You can have food along the way, solve puzzles, laugh together, and ultimately end with your proposal!
https://www.letsroam.com/activities/type/date_night
Don't want to forget the moment they said yes? I've gotcha.
Five best places to propose in Denver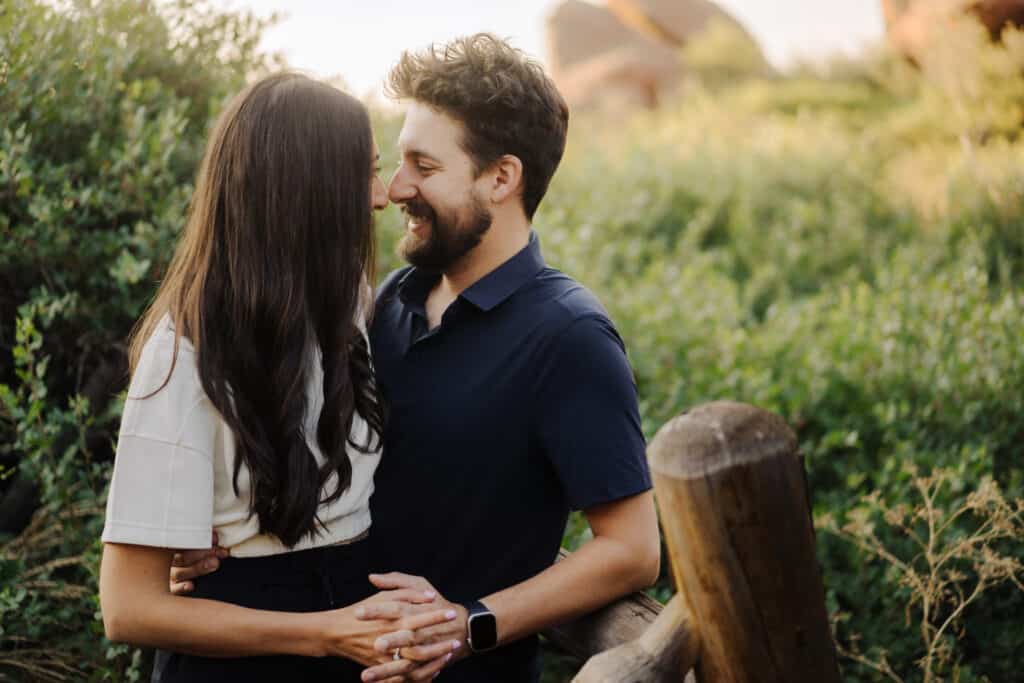 Daniels and Fisher Tower
The Daniels and Fisher Tower (often referred to simply as "The Denver Clocktower") is a landmark rich with history in the center of Denver. It's over 100 years old! It's an iconic part of the Denver Skyline and features four gigantic clocks. It has breathtaking views of the city, It's open to the public, but also has private spaces you can rent for events (weddings, dates. . . proposals). It's a unique spot for sure!
Address: 1601 Arapahoe St, Denver, CO 80202
Website: https://www.clocktowerevents.com/proposals.html
Denver Botanic Gardens
The Denver Botanic Gardens are a beautiful place to be. It's practically an oasis in the middle of the city, with tons of beautiful areas to choose from. While the Garden can get pretty busy, it's large enough that you can usually hide away from people, especially on a weekday. Did I mention how beautiful it was? The Denver Botanical Gardens are gorgeous and vast. Plus, you can have your wedding there later on!
Address: 1007 York St, Denver, CO 80206
Contact Information: :  (720) 865-3500
Website: https://www.botanicgardens.org/
Red Rocks Park and Amphitheater
This Iconic venue located outside of Denver, Colorado has absolutely stunning natural surroundings. There's actually an entire park built around the amphitheater that you can explore and find your perfect proposal location. The atmosphere Is super unique as it mixes the beauty of nature with a dose of cultural significance. It makes for an easily accessible but beautiful location in nature. I mean come on . . .it's Red Rocks! Need I say more?
Address:   18300 W Alameda Pkwy, Morrison, CO 80465
City Park
City Park is a huge public park in Denver, Colorado. It's over 300 acres and has two lakes, multiple trails, multiple sports fields, the Denver Zoo, the Denver Museum of Nature and Science as well as multiple historical monuments. It's an easily accessible but remarkably diverse location. You could find a secluded lakeside spot, or venture into the Denver Zoo if that's more your speed. There's plenty to do in and around the park. It's an easy and beautiful spot to propose.
Address: City Park, Denver, CO
Larimer Square
Not only is Larimer square gorgeous (check out all the beautiful historic buildings, shops, and the string lights!) its the oldest block in Denver, Colorado. It's essentially where Denver started with its original city hall, residence, and commercial district. It could be really cool to start your engagement where the whole city started. Don't care about history? No bad! Larimer square is still a beautiful place to be with its brick buildings, string lights, and cute shops.
Website: https://www.larimersquare.com/
Contact Information: :  (720) 805-1973
Address: 1430 Larimer St, Denver, CO 80202
Bonus- Loveland Pass
Loveland pass is EPIC. As long as you're ok with some pretty steep driving (and aren't afraid of heights) it's a place you can drive straight to, hop out, and find a remarkably beautiful place to propose. Breathtaking Is the name of the game. Just be prepared for the elevation – Its elevation is 11,990 which can make it colder, snowier, and harder to breathe. Definitely plan around weather, bring lots of water, and make sure your lungs are ready to be a mile higher than Denver.
Address:  3160 Tejon St, Denver, CO 80211
Phone: (303) 997-8886
They'll be double impressed if you have a photographer there. . . Just saying
Frequently Asked Questions about marriage proposals
What's a romantic way to propose?
Every couple and every proposal is completely different! What may be romantic for one couple may feel totally different for another. Really consider what you two value, the stories you've shared, and what your partner would love. Maybe it's a grand public gesture, or maybe it's a very private moment as you hike your favorite trail. If you're intentional and thoughtful you can't go wrong. At the end of the day, you're asking them to marry you . . . That's the most important part.
What do I say?
Make it personal! There are no rules for exactly what a proposal should sound like. Make it heartfelt and meaningful – they're in a relationship with you for a reason and they obviously like who you are. Be yourself, keep it simple, and make sure you remember to ask them to marry you at the end. 
How do I record my proposal?
The plan is to only do this thing once – so make it count. I recommend having at least a photographer there to capture the moment. It'll be awesome to look back on over the years. If you're in a private space and can't hide a photographer in your closet you can always secretly set up your phone to record. If you're in a public space make sure to hire a professional photographer or videographer to save the moment for a lifetime
The random you hand your phone to might miss the shot – get someone who won't.