You know you want your wedding day to be different.
   You've decided the traditional stuff isn't your jam, a big venue isn't for you, and that the stress of planning a wedding is something you'd rather skip. You want an adventure, and eloping sounds right up your alley! 
  But after deciding that they want to elope, a lot of couples feel stuck, wondering: What's next?
  There's no rulebook for planning an elopement, which is one of the best parts! But, the complete freedom and entirely open ended questions can lead to a little bit of analysis paralysis, and couples just don't know where to begin. This guide will give you easy, step by step instructions on how to plan your elopement! 

tips for planning your elopement

  Before we start talking about the steps to your dream day and how to plan an elopement, here are a few tips to keep in mind throughout the process!
  My first tip is to go with the flow – and this applies both when you're planning, and on the actual elopement day. Traditional weddings are notorious for being hectic and never going quite according to plan – and while elopements take a lot of the stress and pressure off of you, there are also a lot of moving parts and extra things to think about when you're getting married in the great outdoors, instead of in a temperature controlled venue.

  Throughout the planning process, be prepared for changes and adjustments, and on the big day, embrace whatever happens! Especially when it comes to weather, it's often hard to accurately predict what'll happen in the backcountry, and in the mountains. I know Colorado goes from rain to sunshine in a matter of minutes, so remember – there's no bad weather – it's all part of the adventure.

  Having a Plan B (and a Plan C) is vital when you elope, as sometimes early season road closures, trail closures, and other obstacles can get in the way. Hiring an experienced elopement photographer to help you navigate all of this will make a huge difference!
  Leave No Trace, or LNT, is a set of 7 principles designed to guide the way we enjoy the outdoors. We as humans have a bigger impact than we often realize, and damage to our ecosystems and outdoor spaces is often caused by well meaning folks who just aren't aware. On your elopement day, and whenever we're outdoors, it's important to follow these principles and to learn the specific LNT rules for your elopement location so that these places can stay open, and couples can continue to have adventurous weddings!

  These are the 7 principles, and you can read more about them here:
Plan Ahead and Prepare
Travel and Camp on Durable Surfaces
Dispose of Waste Properly
Leave What You Find
Minimize Campfire Impacts
Respect Wildlife
Be Considerate of Others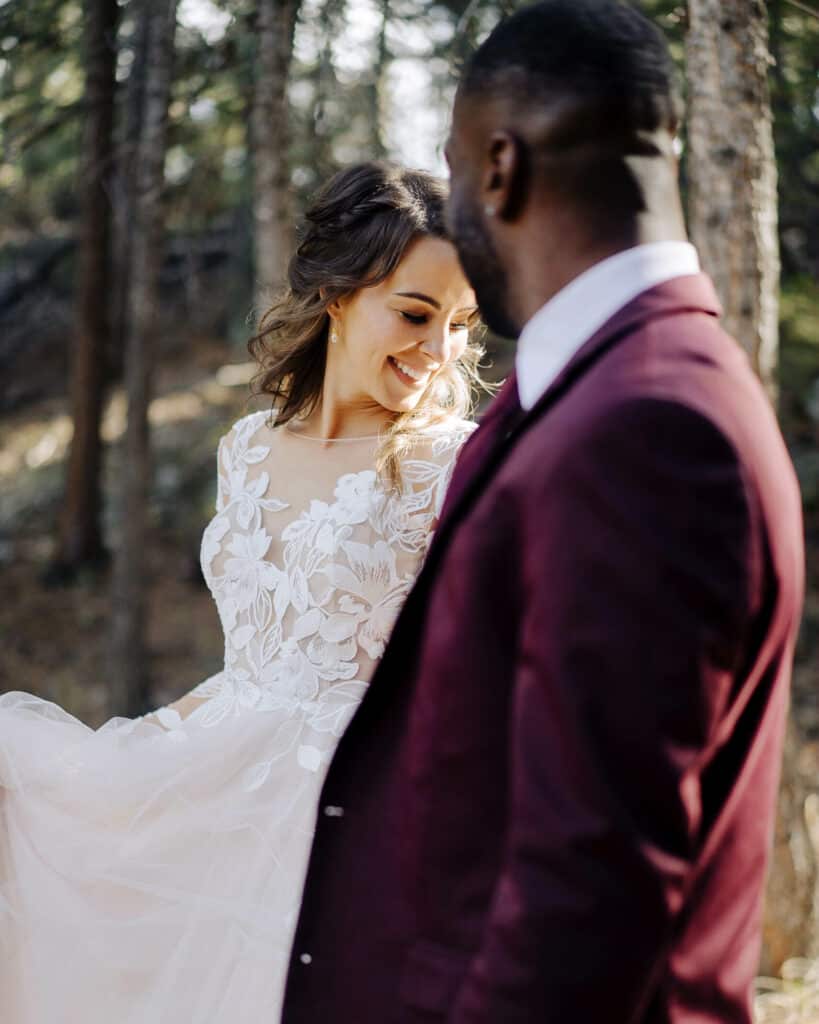 remember what's important
  The point of eloping is to make sure your wedding day is free of expectations, pressure, "should be's," and all the fluff that the wedding industry tells us is important. (I once had a Rabbi tell me "don't should yourself" and that's always stuck with me.) When planning your elopement, it can be easy to get caught up in all of that again – looking at Instagram posts where couples are standing on top of a mountain with an epic view behind them, couples sometimes feel that their elopement should look that way too. But, elopements don't have to look a certain way, and you don't have to hike, or tie the knot in the most epic location known to humankind. Do what's right for you, whether that is a long hike or a ceremony in your own backyard, and remember, all that matters is you, your partner, and getting married to the love of your life.

steps for planning your elopement

  The cost of your elopement depends on a lot of factors, but here are the big ones that can affect your budget!
1. start dreaming up your elopement
  The first step when it comes to figuring out how to plan an elopement is to start dreaming! Have fun with this one, and don't hold back – this is just the brainstorming part, where you can let your imagination run wild as you think about all the possibilities.

  Think about what you want to do when you tie the knot, what you want your day to look like, and what would make your adventurous wedding truly incredible. Your elopement can include anything you want – and I really mean anything! The whole day should be dedicated to kicking off your marriage and celebrating your love, in whatever way feels right and reflects who you are. 

  Talk with your partner about what each of you is imagining for your day, and how you want to tie the knot.
  After you've got some idea (or ideas) of what your perfect wedding say looks like, it's time to make a guest list. Now, this step could be done quickly, if you decide that you don't want any guests at your elopement. 

  Some couples want a "just us" experience, while others choose to invite a few of their loved ones. Either one is totally fine – remember, this is all about you, and doing what you want! If you decide that you do want to invite a few people to join you, make a list now! Especially if you're planning to travel for your elopement, it's best to let your guests know early so that they can make arrangements.  

  If you need tips for telling your family and friends that you're eloping, and tips for including them in the festivities, check out this guide!
3. make an elopement budget
  Budgeting is an important part of any wedding day, and it will likely be a consideration as you continue to plan your elopement. Before you dig into the fun stuff, take some time to discuss your budget! The great thing about elopements is that you get to decide what to spend money on, and you can invest in the things that are important to you – whether that's travel, adventures, photography, food, and anything else that comes to mind.

  Talk with your partner about your priorities and the things that matter most, and come up with a plan for how you'll allocate your budget.
4. setting an elopement date
If the date of your elopement isn't too important to you and your partner, you can do Step 5 first! But if you have your heart set on a date or time frame, talk about this one. Some couples want to elope on a significant or meaningful date, others want to elope during a particular season, and others have a timeframe in mind for how long they want to plan – maybe you want to tie the knot ASAP or you want to have at least a year to figure things out.
Being flexible with your elopement date gives you more options when it comes to picking your elopement locations, and also makes it easier to coordinate with vendors that you love!
step 5: choosing an elopement location
  In figuring out how to plan an elopement, this is one of the most exciting steps! In my humble opinion, anyway. I recommend keeping it general for now – unless you already have an exact spot where you know you want to get married, just think about a park, region, state (or country if you're going international) that you like or are drawn to. You can even just think about what kind of scenery you want to see, without getting too specific! 

  In the next step, you'll chat with an elopement photographer, who can take your needs and wants and hopes and dreams for your perfect location and create a customized list of recommendations! That's why I recommend keeping your options open for now, but it will help to make a list of your priorities and what you want from your elopement location – you'll tell these to your photographer, so that their recommendations match up perfectly to what you're dreaming of.

Here are some things to think about when it comes to your elopement location:

•What kind of scenery or landscapes you're drawn to

•How far from home you want to travel

•Do you need it to be dog friendly?

•Accessibility needs and how difficult it is to get there

•Privacy and avoiding crowds

•What you want to do on your elopement day

•What kind of weather or season are you hoping for?
6. contact an elopement photographer
  Contacting an elopement photographer should come early on in the elopement planning process, because they'll make every other step way easier! Luckily, I happen to know a guy – you can get in touch with me here!

  As an elopement photographer, my goal is to ensure that every couple has the wedding day of their dreams – and that it comes with no stress, no expectations, and no pressure. When you book with me, all you need to do is have a date and a general location set (and don't worry, we can chat about all of that if you aren't sure yet). Then, I give you all the tips, tricks, and resources you need to plan your elopement – a list of location recommendations, places to stay, my favorite vendors, things to do when you elope, permit information, and where to find the best cup of coffee.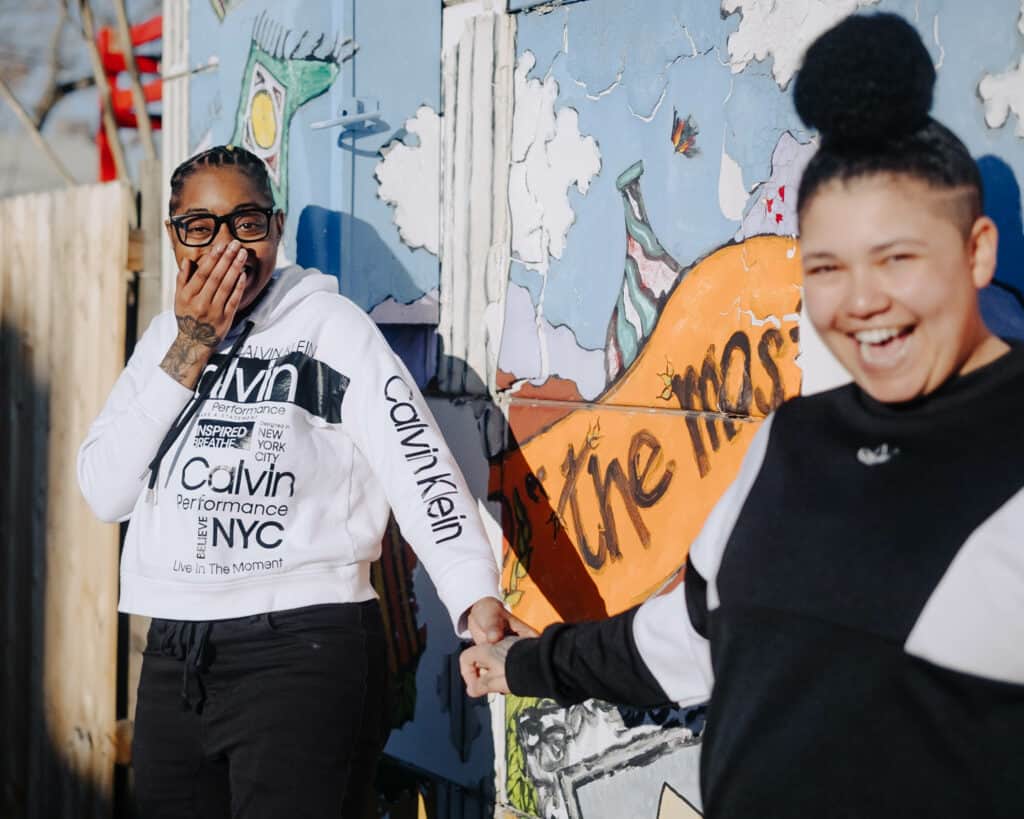 7. book flights and lodging
  After I've given you my amazingly detailed list of location recommendations, and you've picked one that makes you over-the-moon thrilled about saying your vows in the spot, it's time to book your flights (if you're flying), and your lodging – since you'll need a place to sleep after all those adventures.

  Doing this early on can save some stress, as you'll get better deals and have a better chance of finding somewhere close to your elopement location.
8. get an elopement permit
  I'll handle the research – and let you know if you need one of these! Some places require a permit if you're having a wedding ceremony (even a small one), and you definitely don't want a park ranger kicking you out on your elopement day. So, if you need a permit, apply for it well in advance – most parks will let you apply up to a year out, and require at least a few weeks for processing.
9. hire your elopement vendors
  Some couples keep it simple,  just hiring a photographer for their elopement day. But, having a team of elopement vendors can make it so much easier to plan your elopement! Here are some other vendors to consider.
Need more help planning your elopement day?

elopement vendors you might want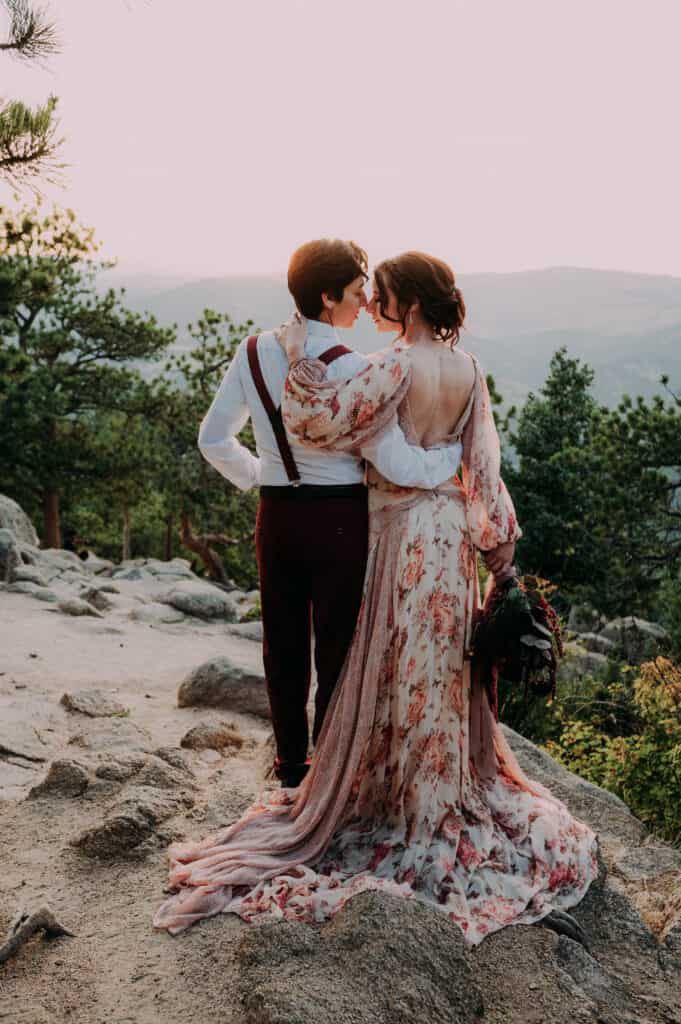 An elopement planner will be your ultimate resource in how to plan an elopement – as they'll do all the heavy lifting! While I, as an elopement photographer, provide my couples with resources and recommendations, a planner handles the actual bookings, travel plans, and reservations. For couples who don't have a lot of time, an elopement planner can help a ton!
  Most states require an officiant to sign your marriage license – and if you hire an elopement officiant, they'll perform your ceremony as well. I'm ordained and can sign the papers (and in Colorado, you can actually sign them yourself), so some couples choose to have their own ceremony, without someone to do the official "I do's."

  Hiring an elopement officiant can be great for couples who want a personalized ceremony, and if you're eloping with guests, they'll help direct the ceremony. But, you can also have a friend or family member get ordained at ULC.org, or you can have a self solemnizing ceremony and skip the formalities. Self solemnization is a really great option and can be done in these states: Colorado, California, District of Columbia, Illinois, Kansas, Maine, Nevada, Pennsylvania, and Wisconsin
  If you're planning to hike or have any sort of outdoor adventures on your elopement day, your DIY look may not cut it! A hair and makeup artist experienced with elopements will help ensure that everything stays put throughout the day. And of course, getting glammed up and pampered instead of doing your own hair and makeup is fun!
  Adding a bouquet, boutonniere, or some floral accessories to your elopement day can add a beautiful touch! You can even get a custom arch or arbor made – but check with your elopement location first, as some outdoor places don't allow these.
  You'll need to eat, and while a picnic or dinner at a restaurant can be great, if you have guests coming to your elopement, consider hiring a caterer so you don't have to cook. If you're a big foodie, a private chef can give you a unique culinary experience.
Your wedding only happens once, save those moments for a lifetime.
10. shop for elopement attire and adventure gear
  A part of how to plan an elopement is shopping for everything you'll need – whether that's wedding stuff like dresses and suits, rings, and shoes, or things you'll need for whatever you have planned on the big day, like a hiking backpack, an inflatable paddleboard, or some snorkeling gear.

  It's usually recommended that you shop for wedding dresses and wedding suits at least six months out so that you have time for alterations, if needed. 

  When it comes to adventure gear, think about what you'll need for the activities you have planned – you may have some of it, or you may need some new stuff. You can also check out gear rentals at your elopement location!


11. get a marriage license
  A marriage license is always required if you want to get legally married. This needs to be obtained in the state where you're eloping, and marriage laws are slightly different in each one! So be sure to do a little bit of research and figure out what the requirements are for you, and when you need to apply. Some states allow online or mailed in applications, while others require that you visit the county clerk's office in person. Plan ahead so you have time to get your marriage license, but be sure to check expiration dates so that you don't plan too far ahead!
12. make a timeline for your elopement
  The timeline is an outline of what you'll be doing throughout the day. It's less intense than a wedding timeline, and should leave some room for spontaneity and changes of plan! As your elopement photographer, I'll handle this one – I'll create a timeline for you, then we'll talk about it and see what needs tweaking! It'll include every part of your elopement day, and what we'll do.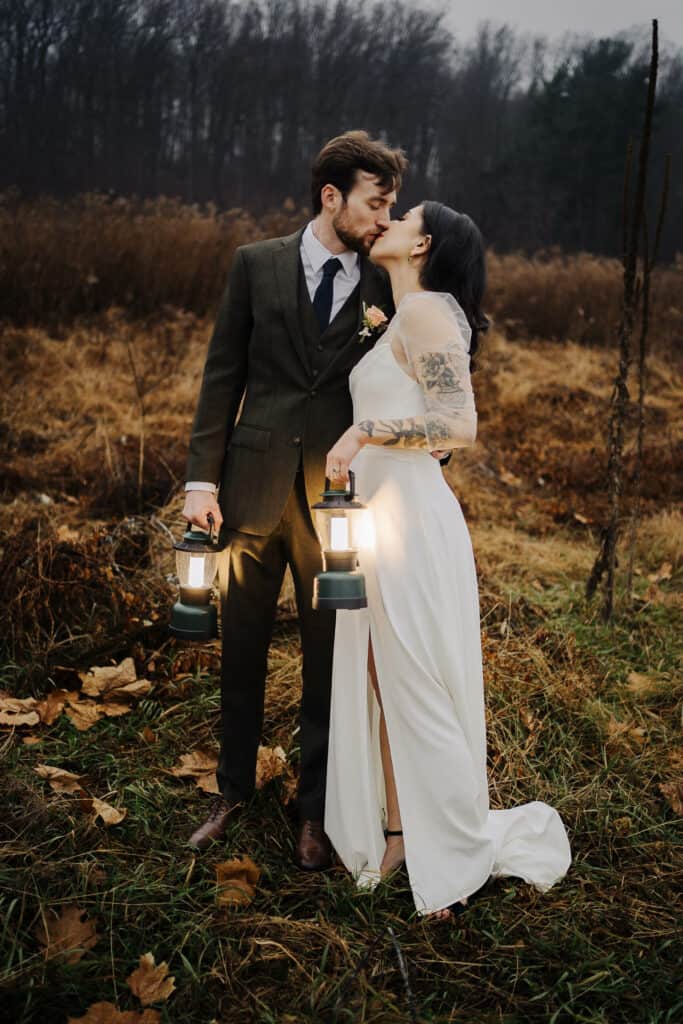 It's almost time! I recommend making a packing list about a week before your elopement, so that when you inevitably think of things you forgot, you can add them to the list before you actually have to start packing. This will help prevent a lot of stress!

  Here are some things to put on your elopement packing list! Don't forget about the regular ol' items you need when you travel.

•Ceremony attire
•Rings
•Vows
•Socks & shoes
•Extra socks
•Makeup 
•Deodorant, perfume, cologne, and other toiletries
•Snacks
•Water bottles
•Toothbrush & toothpaste
•Florals
•Jewelry and accessories
•Jackets, raincoats, or base layers
•First aid kit
•Hiking or adventure gear
•Marriage license
•Wedding permit
•Belt, tie, suspenders
  You did it! After successfully planning an elopement, it's time to do the thing and tie the knot. You'll spend the day having the ultimate adventure with the love of your life, hiking, kayaking, picniking, stargazing, rock climbing, making S'mores… or whatever else your dream elopement is all about!

  At the end of the day, what's important is that you got married, and you did it in a way that's true to you and your partner.

Ready to start the process? Contact me, and let's plan an elopement!
Ready to start the process?