Should you have a first look on you wedding day?

  To start, let's talk about what a first look is. A first look is a planned moment between two people on their wedding day to see each other before the ceremony begins. This gives you the chance to have a more private moment between the two of you where you get to see each other and have a conversation before meeting at the end of the aisle (or whatever else you may be walking down on your wedding day). 

  People often ask: should I do a first look? First looks have gained popularity and are a really beautiful way to connect with your partner before the big day goes by in the blink of an eye! At the end of the day the decision to have a first look is completely up to you – but here are some potential pros and cons. 

reasons to have a first look

  Your wedding day will be a whirlwind of emotions, noise and movement. A few quiet moments with your partner before it all starts can make all the difference for the two of you. Many times couples will say their entire day was a blur. Having this moment before everything gets going is something so special. With weddings being such an important life event any chance you get to slow things down and savor the moment can be a valuable tool. A first look is perfect for that!
  Are you potentially feeling a bit anxious, nervous or stressed about your wedding day? If that's you then spending time with the love of your life before you get started on your day can be a big help. There's a lot going on at weddings, it's easy to get a bit stressed or overwhelmed. Who better to help calm those nerves than the person you're marrying. A first look will give you a moment to connect and catch your breath, ease your nervousness and bring a little extra joy going into your wedding day. Your wedding is already about the two of you, why not do even more of it together?
  First look photos are amazing in and of themselves! But, beyond that, seeing each other before the ceremony allows you the option to do all of your portraits, family photos, and wedding party shots before you walk down the aisle. This gives a lot more flexibility in your timeline as well. With your big group shots and portraits out of the way you can get straight to the party after your ceremony!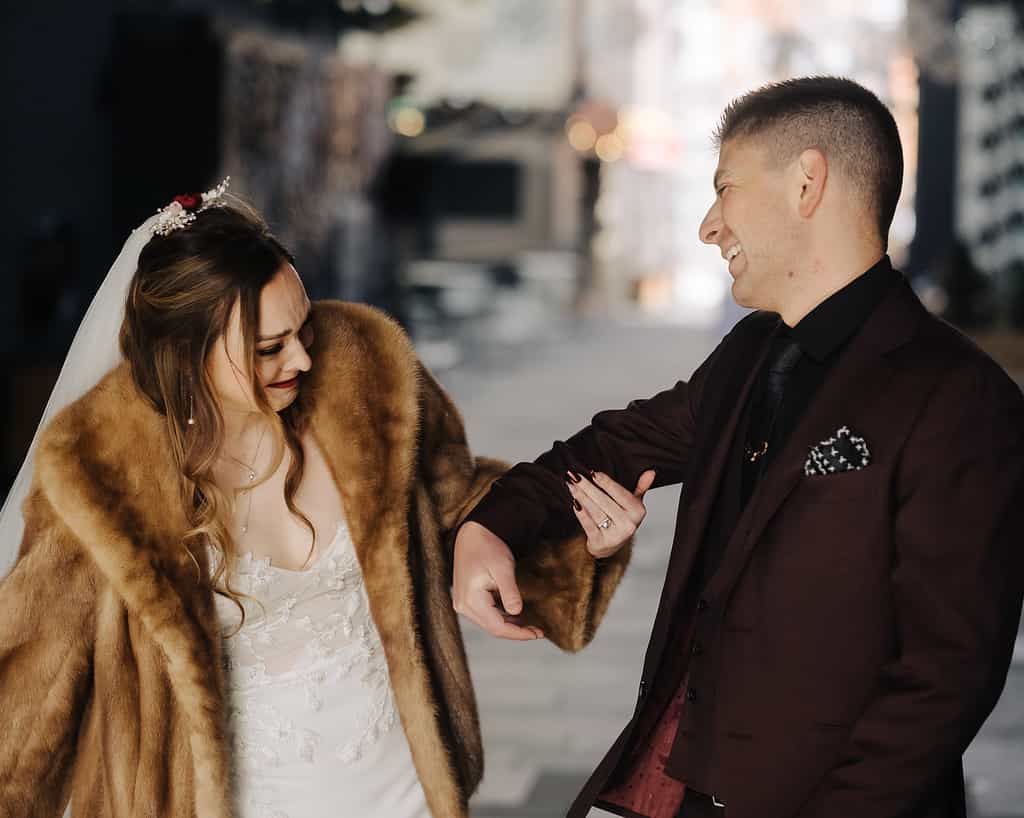 get the waterworks out of the way
  Do you know you're going to cry the first time you see your partner on the day of? Are you full of emotions like me? Doing a first look gives you the opportunity to diffuse those emotions a little bit before you tie the knot. You can get those waterworks moving a little bit earlier, start tackling the day together, and steal a few extra kisses. And hey, even if you cry at both – it's your wedding day! It's an emotional time and it shows you care and that you're full of love. 🙂
Make sure you can look back on every moment in 20 years.

reasons not to have a first look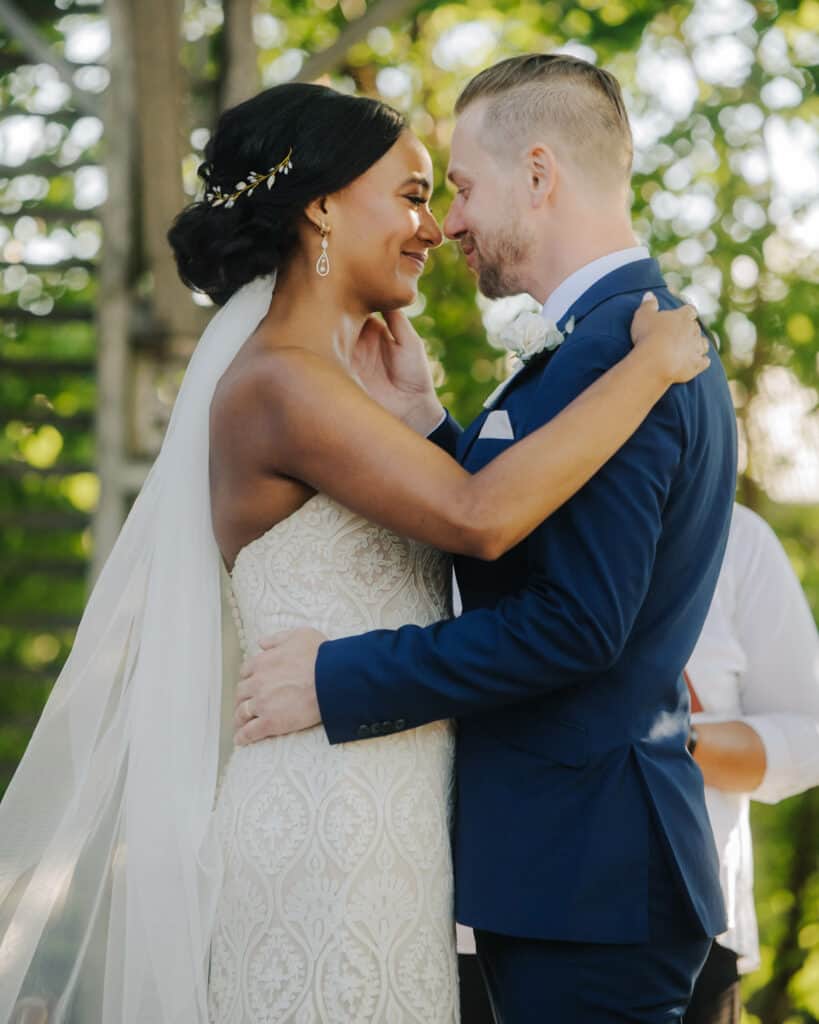 you won't have your first look down the aisle
  Many couples have said that walking down the aisle was still special even with a first look. But if you've been dreaming of that dramatic ceremony entrance, slowly walking down the aisle with your partner tearing up as they see you for the first time, this may not be for you.
you might have to wake up earlier
  A first look will mean that you'll have to get ready a bit earlier, which will then mean that you'll have to be up earlier. So that means planning to get ready an hour or two before you would have without a first look. Take into account that getting ready on your wedding day will take more time than just any other day, especially with a hair and makeup artist and your wedding party to get ready with. A lot of people are already so excited for their wedding day that getting up earlier may be no problem at all (maybe going to sleep in the first place will be your biggest struggle?) – but if getting up a bit earlier sounds too daunting, it's definitely something to consider. 
you may have to consider some touch ups
  If your first look involves lots of pictures taken out in the sun and nature, makeup and outfits could start to show a little wear. It's more than likely you'll have a little bit of dirt show up on the bottom of dresses – maybe a bit of dust on pants. It will rarely show up in a noticeable way for your guests or in photographs – but it's still something to consider. If your makeup is what you are worried about, many makeup artists give an option to stay for part of the day or the whole day for touch ups. If this is what's holding you back in this decision you'll want to talk to your makeup artist to see if that is something they could do for you. It's not a huge con, but just another thing to consider.
at the end of the day . . .
There are a few other variations of this first look idea that you can incorporate into your day in other ways. One example is a "first touch" where you meet at a corner where two walls meet – but you don't see each other, only touch and talk. Another option is to exchange letters the morning of. That way you still get a message to your partner, while preserving any suspense you're looking for. At the end of the day it's always up to you! These are your plans – this is your wedding – this is your life. Don't let anyone pressure you into doing anything you're not 100% on board with. You only live this day once. What do you value most?
Your wedding only happens once, save those moments for a lifetime.