The towering peaks of the Rocky Mountains cut through Colorado, creating a stunning, diverse landscape of deep river canyons, lush green valleys, dense pine forests, and rugged mountains. The jaw dropping scenery and endless outdoor adventures make Colorado the perfect place to tie the knot for any couple who wants something outside the box – a wedding day that's unlike any other.

If you want to elope in Colorado, there are a few things you'll need to know first! This guide will give you all my planning tips and advice, places to elope in Colorado, and more.

Reasons to elope in Colorado

Before we start planning your elopement, you'll need to decide if eloping in Colorado is right for you! Here are just a few amazing reasons to elope in Colorado.
  Couples travel from all over the country to elope in Colorado, because it's one of the few states where you don't need an officiant or any witnesses! The two of you can sign your marriage license, and that's all you need to get legally married. This makes Colorado an ideal place for eloping, as it's convenient, private, and easy to elope! Click here to read more about self solemnization in Colorado.

  Of course, the scenery is one of the best things about eloping in Colorado! Throughout the state, you'll find breathtaking views – from rocky deserts to lush alpine landscapes. There are countless beautiful backdrops, and you can tie the knot amongst some of the best scenery in the country!
  Colorado offers a unique experience every season – and there's no bad time for an elopement! In the summer, it's a hiker's paradise, with stunning trails and hikes. In the winter, it's a hub for skiers and snowboarders, and the in-between seasons offer their own unique adventures! 
Need more help planning your elopement day?

when to elope in colorado

  Colorado is beautiful no matter when you elope, but the experience you have will be different depending on the season! Here are some things you should knosw about the weather, and the best time to elope in Colorado.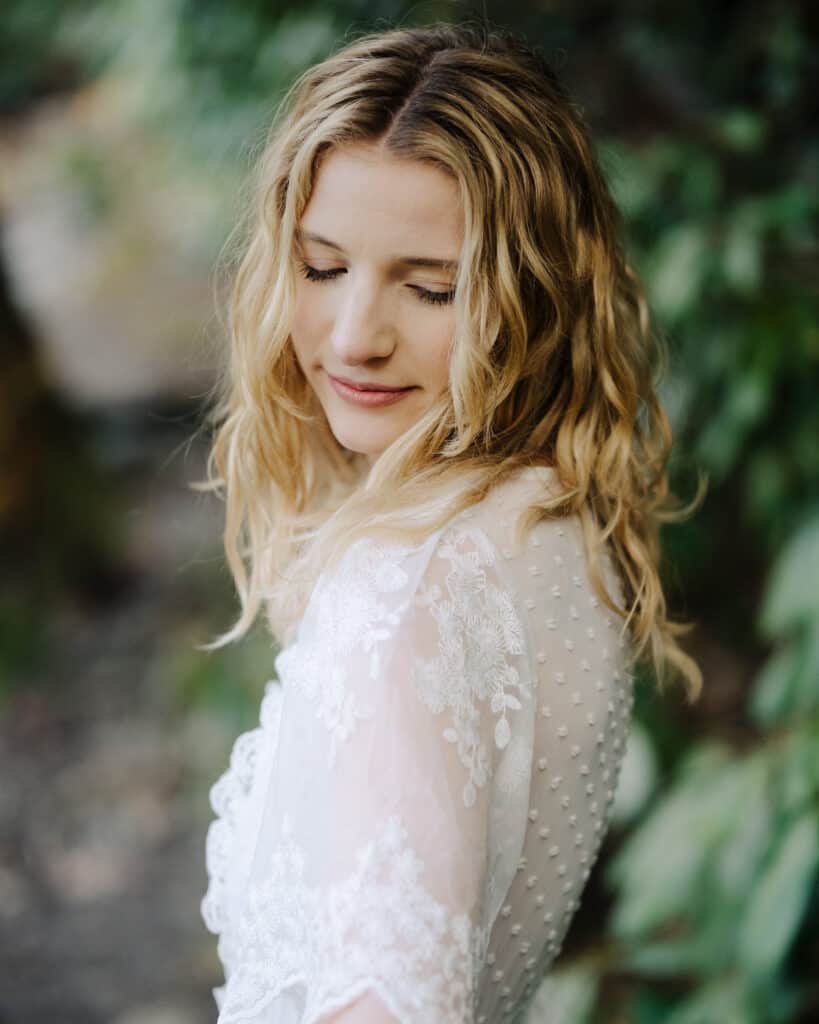 summer elopements in colorado
  Summer is definitely the most popular time to elope, and the most popular time to visit Colorado. This time of year is ideal for hiking, as the snow is usually gone by mid July and the weather is warm and sunny! In the mountains, mid day thunderstorms are common, so to avoid the rain, I recommend planning your elopement ceremony for sunrise or sunset.
   Because of the weather, you'll see a lot of crowds this time of year. To get some privacy for your elopement, be sure to schedule your ceremony for a weekday, and consult an elopement photographer about some off the beaten path locations!
fall elopements in colorado
  Fall is one of the best times to elope in Colorado. The summer crowds clear out, and early fall can still be warm and sunny – and you can spot the fall foliage! In higher elevation places, like Rocky Mountain National Park or Loveland pass, snow can start piling up early. You can expect snow starting in October, but occasionally there are some earlier flurries!
winter elopements in colorado
  In the winter, Colorado's weather is harsh – cold and snowy. But, that means it's the perfect time for skiing or snowboarding! Colorado is known for its ski towns and amazing slopes, but if you want to get some privacy, the best thing you can do is go snowshoeing in the backcountry. Most hiking trails will be covered in snow, but eloping in this winter wonderland can be a magical experience. Just bring some hand warmers!
spring elopements in colorado
  Spring is the best time to see Colorado's waterfalls. As the snow melts, the rushing waterfalls are in full force. You can also see some wildflowers in bloom in lower elevation places, but the mountains are likely to be snow covered until mid summer. This can be a great time to elope in Colorado to avoid crowds, but the weather can be a little unpredictable!
Your wedding only happens once, save those moments for a lifetime.

the best places to elope in colorado

  This is my favorite part – finding the perfect, scenic place to tie the knot! Each couple is different, and what you're looking for won't be the same as every other couple, so part of my job as an elopement photographer is helping you find a spot that perfectly fits what you're dreaming of for your day.

  Here are some of my favorite Colorado elopement locations, and a few of the best places to elope in Colorado!

Here are ten of my favorite elopement locations in Colorado:
Rocky Mountain national park
  Rocky Mountain National Park is Colorado's most famous attraction, and a really popular elopement location! In the park, you'll find some of the most incredible scenery – alpine lakes, wildflower meadows towering peaks, dense forests, and so much more. It's a really incredible place to explore, and while it is one of the best places to elope in Colorado, it's also one of the busiest!
great sand dunes national park
  Colorado's Great Sand Dunes National Park is more remote, and offers an entirely different view! Its desert landscape is made up of rolling sand dunes, bordered by mountain peaks in the distance. The unique scenery makes it one of the best places to elope in Colorado, and it's much less crowded than Rocky Mountain.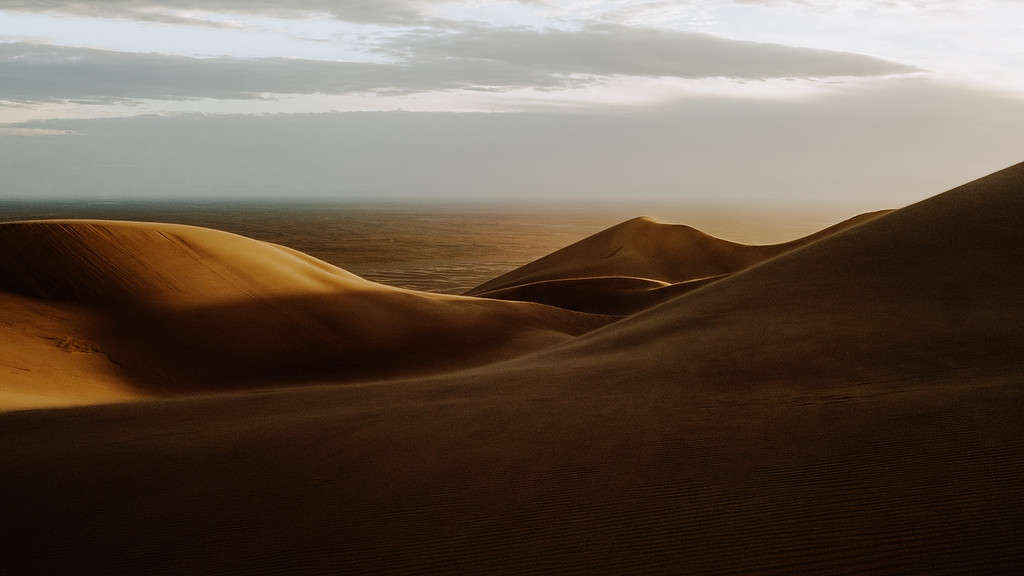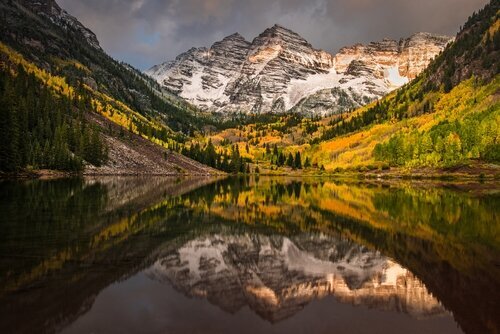 The Maroon Bells are a set of mountain peaks, whose red hue makes it a uniquely breathtaking sight, and have earned them the title of "most photographer mountains in North America. At the foot of the mountains is a gorgeous, reflective lake, and this is definitely an iconic Colorado elopement location. This spot is in the town of Aspen, a ski resort town that combines outdoor adventures with boutique shops and upscale accommodations in town! The best times to go are between May and October.
  Another gorgeous Colorado elopement location in the desert is Garden of the Gods. This unique park features red rock formations. The sandstone spires, boulders, and rock walls make it a great place for rock climbing, but walking around the trails is an incredible experience as well!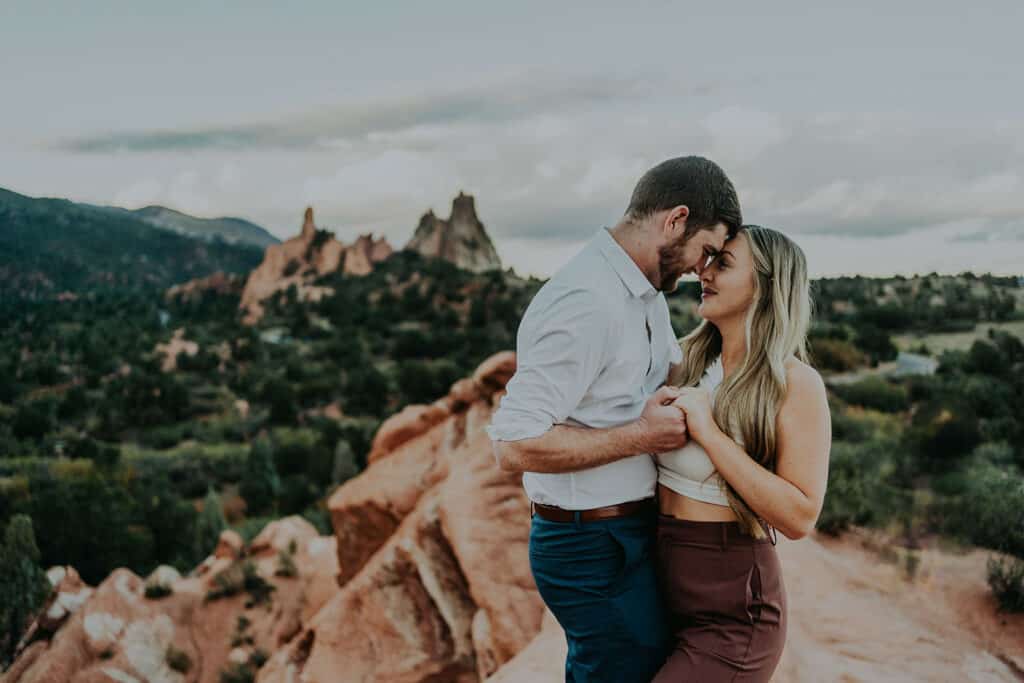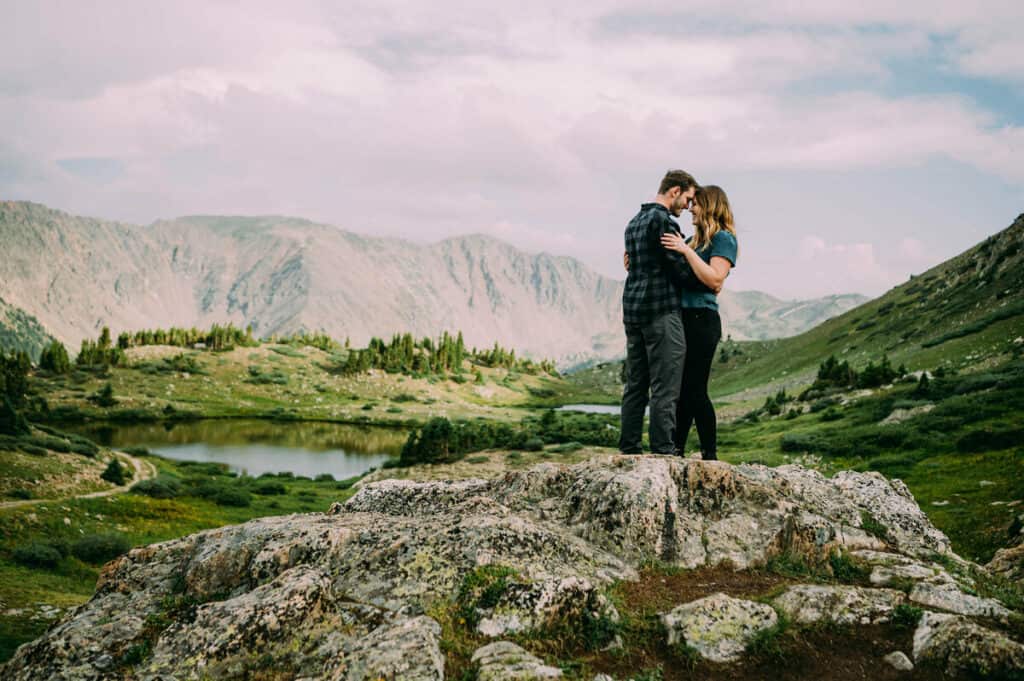 Loveland Pass is one of the best places to elope in Colorado for couples who want an easily accessible location. You can drive the winding roads up to the top of the mountain pass, and marvel at the views down below!

   Though the pass is open year round, it can snow even in the middle of summer – the high elevation makes the weather unpredictable, but the views are worth the drive.
  Telluride, a former mining town, is tucked in a box canyon amongst the peaks of the Rocky Mountains. The town has a historic charm, and makes the perfect home base for all your adventures! In the winter, it's perfect for skiing, and in the summer, there are countless hikes in the surrounding area.
Colorado national monument
  Colorado National Monument is a breathtakingly beautiful national park located in western Colorado, along the border of Utah. It's known for its stunning red rock formations, deep canyons, and dramatic cliffs that tower over the surrounding landscape.
  Vail is a mountain town located in the White River National Forest. Around this area, you'll find big adventures and long hiking trails, so it's one of the best places to elope in Colorado for couples who want to do some exploring! In the winter, you can ski or snowboard on the mountain slopes, and you'll find cozy lodges and homey cabins to stay in during your elopement in Colorado.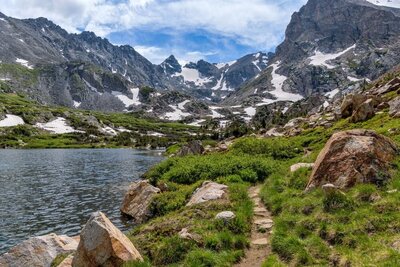 Just outside the town of Boulder is Lake Isabelle, an alpine lake that requires a bit of hiking to get to, but nothing too strenuous. The trail goes through the forest, around waterfalls, and along wildflower meadows, ending at the gorgeous blue lake surrounded by mountain peaks! This is one of the best places to elope in Colorado for couples who want to hike. 

Things to do when you elope in colorado

  Your elopement day is all about adventure – and the best part is that you can do anything you want. Colorado offers endless outdoor adventures, so there's no limit on the experiences you can have! 

  Here are a few ideas for things to do when you elope in Colorado:
•Ski or snowboard
•Go hiking
•Go kayaking
•Rock climb
•Paddleboard
•Stargaze
•Take a scenic drive
•Go to a hot spring
•Take a 4×4 tour
•White water rafting
•Relax at a brewery
•Go camping

  No matter what you do, the important thing is that your wedding day reflects the two of you, and your relationship! Whether it's a serene picnic by the lake or an epic adrenaline rush, the real adventure is getting married in a way that feels true to you.
Your photographs should remind you how amazing it felt to live your elopement!

Tips for your colorado elopement

There are some logistics and things to think about that you don't encounter with traditional weddings. So, as you plan your elopement, and on the day of, here are some tips and things to keep in mind!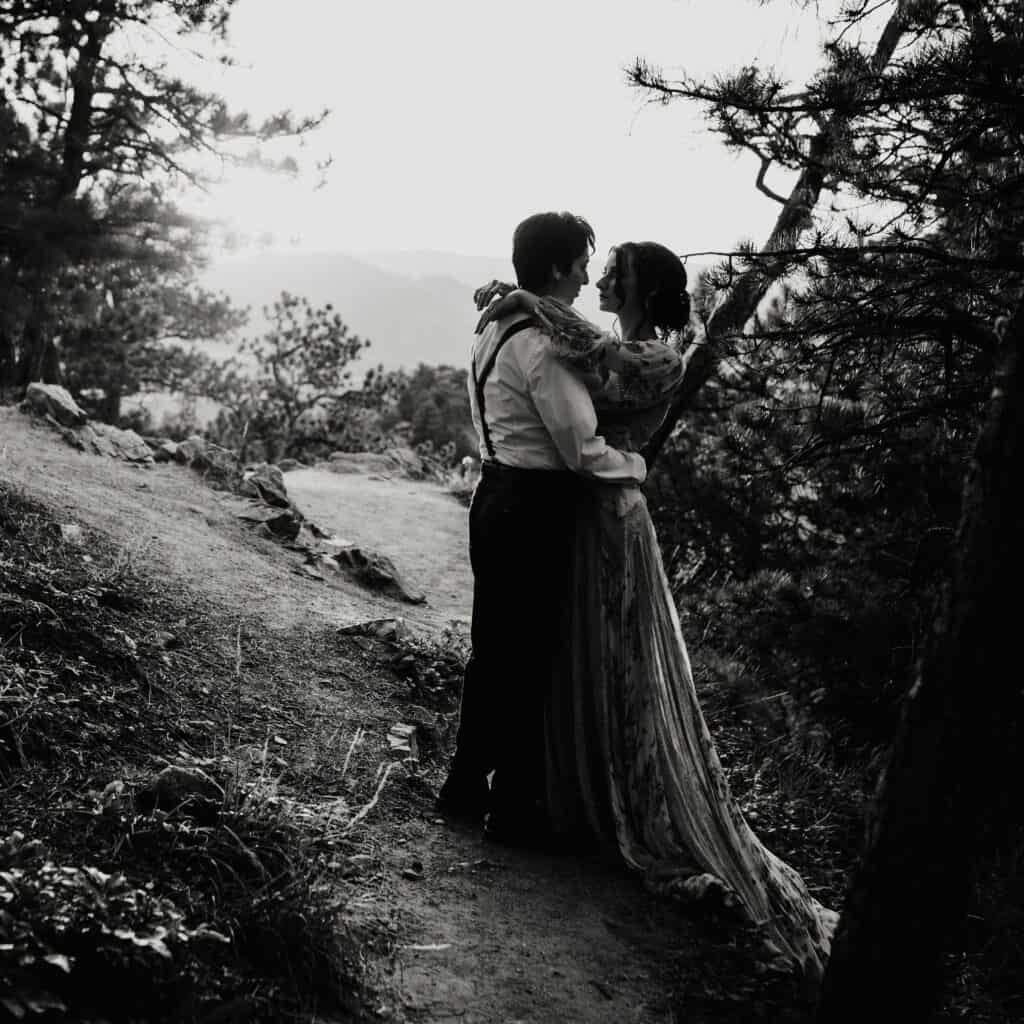 Some places in Colorado will require that you get a wedding permit – also called a special use permit. This depends on the location, so once you decide where you want to elope, do some research to figure out if you need one! The rules vary, so you may not need one, or you may only need one if your elopement is over a certain size.
  For example, Rocky Mountain National Park has the strictest permitting process – there are limited locations where you can have a ceremony, and permits are required no matter what. Because it's so popular, the application process can be competitive, and only a limited number of permits is given out. No matter where you elope, if a permit is required, it's best to apply early! Most places begin taking applications a year in advance.
leave no trace in colorado
Leave No Trace (LNT) is a set of 7 principles that helps reduce our impact on the outdoors. Even with the best intentions, we can cause a lot of harm to the environment without realizing it, so getting informed and learning about LNT is a huge way to protect our outdoor spaces! When you elope in Colorado, keep these principles in mind, and learn about any that may apply to your specific Colorado elopement location.

 Here are the 7 principles, and how they play into your Colorado elopement:

•Plan Ahead and Prepare – download offline maps, bring safety and first aid equipment, and familiarize yourself with your elopement location

•Travel and Camp on Durable Surfaces – don't go off the trails!

•Dispose of Waste Properly – pack out anything you bring in

•Leave What You Find – don't take rocks or flowers, and don't alter the environment

•Minimize Campfire Impacts – be aware of any burn bans and practice campfire safety

•Respect Wildlife – keep your distance from all wildlife

•Be Considerate of Other Visitors – your elopement can't blog trails or walkways, and loud music and decorations are not allowed in most locations
altitude sickness in colorado
  One thing that's unique to Colorado is its high elevation. Colorado sits above sea level, so when you're in the mountains, the air is thinner. For people who aren't used to the altitude, it can make you sick! If you're traveling, give yourself some time to get used to the new environment, and remember that you may need to take hikes slower than usual. Stay hydrated, and be on the lookout for symptoms of altitude sickness, which include headaches, dizziness, tiredness, and shortness of breath.
  We talked about what you can expect in each season in Colorado, but for your elopement, it's important to keep in mind that the weather is known for being unpredictable! No matter when you elope, bring extra layers and be ready for anything. It's always better to be overprepared!
what to wear when you elope in colorado
  For your Colorado elopement, you'll be doing a lot more walking, hiking, climbing, and moving around than you would at a traditional wedding, so it's important that your outfits are adventure ready! 

  Whether you're rocking a dress or a suit, make sure it fits comfortably, isn't too tight, doesn't restrict your movement, and feels good! In cold weather, adding base layers – like nude leggings – can work wonders for keeping you warm. Jackets, capes, and shawls are all great for layering!

  Your shoes are a huge part of the elopement outfit as well, and if you're going to be doing a lot of walking, I recommend hiking boots. If you get new shoes for the occasion, make sure they're broken in, because there's nothing worse than a blister
colorado elopement packages
  As an elopement photographer, I'm there to document your day, but I'm also here to help you plan – from beginning to end. I'll help you find the perfect place for your elopement, make sure you get the right permits, give you recommendations for places to stay and things to do, and make a custom timeline for the day. I'm all about making sure your wedding day is unlike any other – because you deserve a unique elopement custom tailored to the two of you!
  If the peaks, valleys, rivers, and deserts of Colorado are calling, and you're ready to plan your own adventure elopement, contact me to learn more about Colorado elopement packages!