Your engagement is one of the most exciting experiences of your life, and your engagement photos should reflect that exhilaration for long-lasting memories.
When it comes to engagement photos, traditional is out, and uniqueness is in. Your photos don't have to be the standard, typical image you might think of when imagining engagement photos–they should reflect your and your partner's passion and personalities.
People looking for quirky, unique, and personal engagement photos in Colorado can hop onto the growing trend of adventure photography.
With several bold, distinctive locations in Boulder, Colorado, you can take your romantic photos to the next level with adventure engagement photos to last a lifetime. Consider some of these locations:
Walden Ponds Boulder, Colorado

Gorgeous walking trails in Boulder, Colorado

Lost Gulch Overlook Colorado

Chautauqua Park Boulder, Colorado

And plenty more!
But where are some of the best places for Boulder engagement photos, and how can you find the best photographer for your engagement photo needs?
The outdoors might be your go-to idea when choosing the best location for your engagement photos. While some outdoor engagement photos fall into the trap of being stereotypical, knowing the best outdoor parks and engagement photo locations Boulder offers can transform your photography experience.
One of the parks I always recommend is Eben G. Fine Park, Boulder.
It's an amazing option to celebrate your engagement surrounded by stunning nature and unique sights you'll struggle to find elsewhere. Eben G. Fine Park photos can be taken alongside the beautiful Boulder Creek or along the several miles-long walking trails the park offers.
The park has stunning bridges and gorgeous rock formations and acts as a beautiful, peaceful oasis with lush nature that stands out. Of course, this park isn't the only amazing location in Boulder that makes for the perfect engagement photo opportunity.
Chautauqua Park, a portion of one of the most iconic historical landmarks in Boulder, is the perfect place to take your engagement photos. Chautauqua Park engagement photos benefit from a massive landscape and a stunning backdrop of the Flatirons.
Walk along the breathtaking Chautauqua Park trails or bask in the natural beauty of the tall grass and vibrant nature the park boasts. No matter where you set your photos in the park, you're guaranteed to get a mindblowing shot.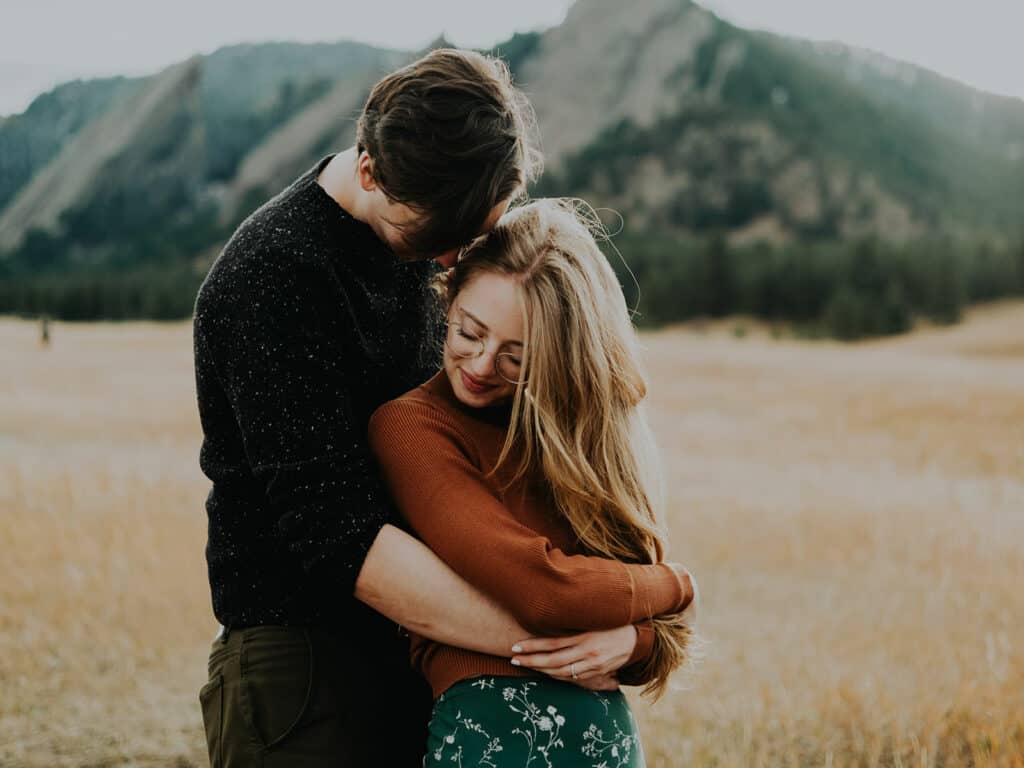 Head to lost gulch overlook
If you're looking for a truly jaw-dropping location to take your engagement photos, you should put the Lost Gulch Overlook at the top of your list. All it takes is a quick drive up Flagstaff mountain to reach this breathtaking site with amazing views of the forest and mountains beyond.
While the spot is perhaps best known for its gorgeous views at sunrise and sunset, Lost Gulch Overlook engagement photos are also incredibly popular for the unconventional spouses-to-be. From the peaks of the gorgeous landscape at Rocky Mountain National Park to the city of Boulder, I've captured plenty of memorable moments in Lost Gulch Overlook photos.
Beyond your engagement photos, Lost Gulch Overlook elopement is incredibly popular among partners that want their wedding to be one for the books. When it comes to Lost Gulch Overlook, Boulder residents have no shortage of options to make the engagement and marriage ceremony experience the best possible. Your Lost Gulch Overlook elopement will be awesome.
Lost Gulch Overlook can get fairly busy on the weekends or at certain times of the day, so I have a few other nearby locations in my back pocket for couples I work with.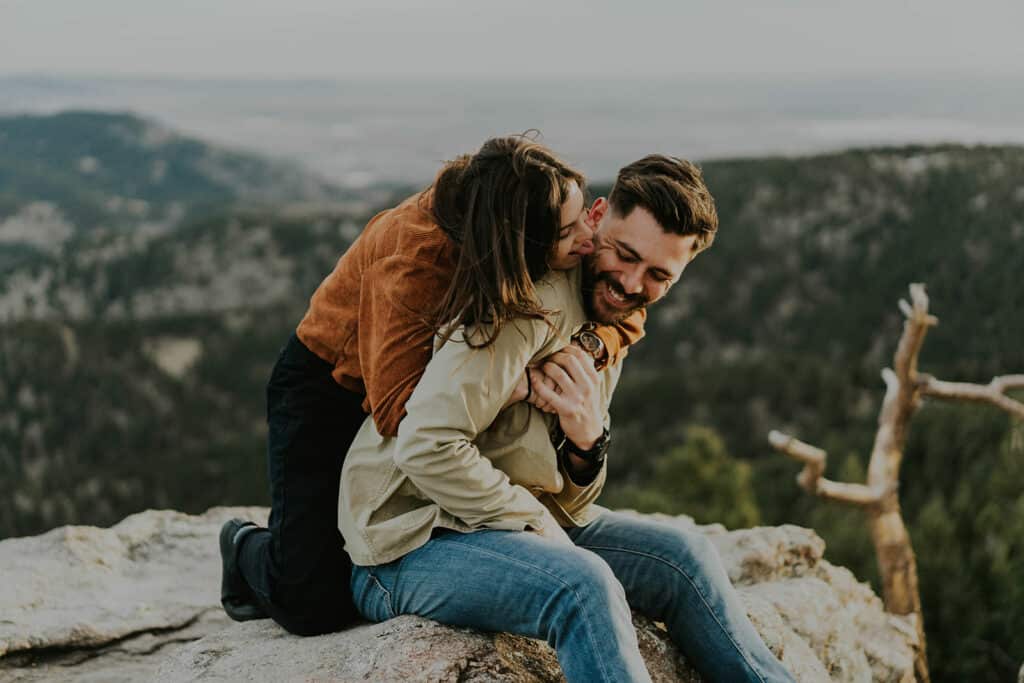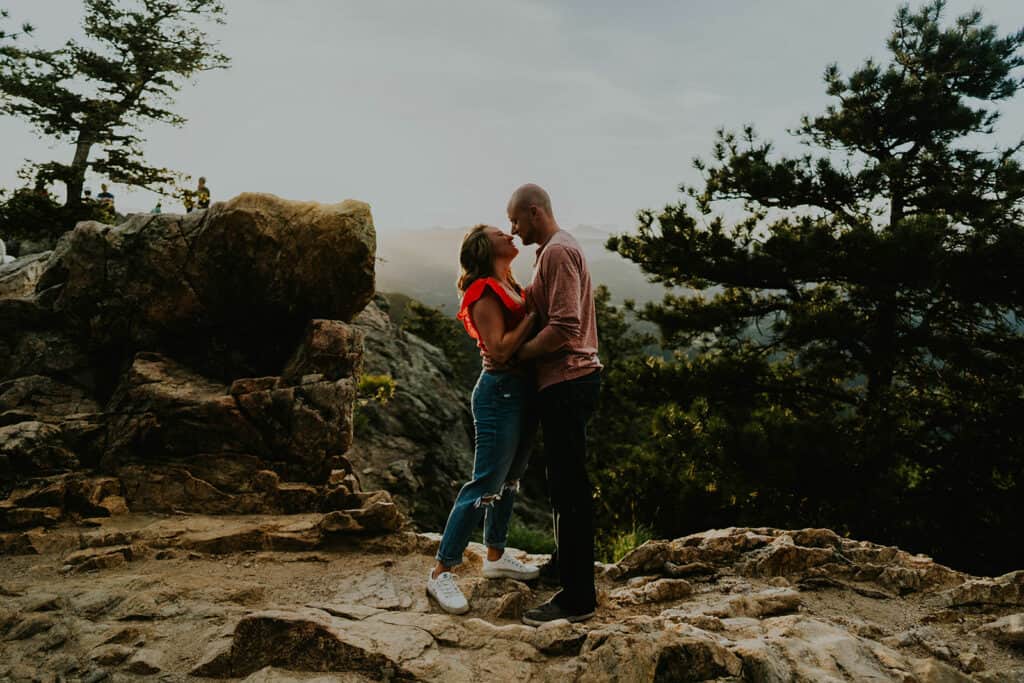 Walk along the beautiful trails
There are tons of stunning trails in Boulder, CO, and many locations are perfect for Boulder engagement photos. One of the best Boulder engagement photo locations is, without a doubt, the Flatiron Vista Trail.
This trail is quieter than other popular trails in Boulder but doesn't skimp out on the views. The magnificent grassland meadow with awe-inspiring Flatiron views in the backdrop makes for the perfect photo session.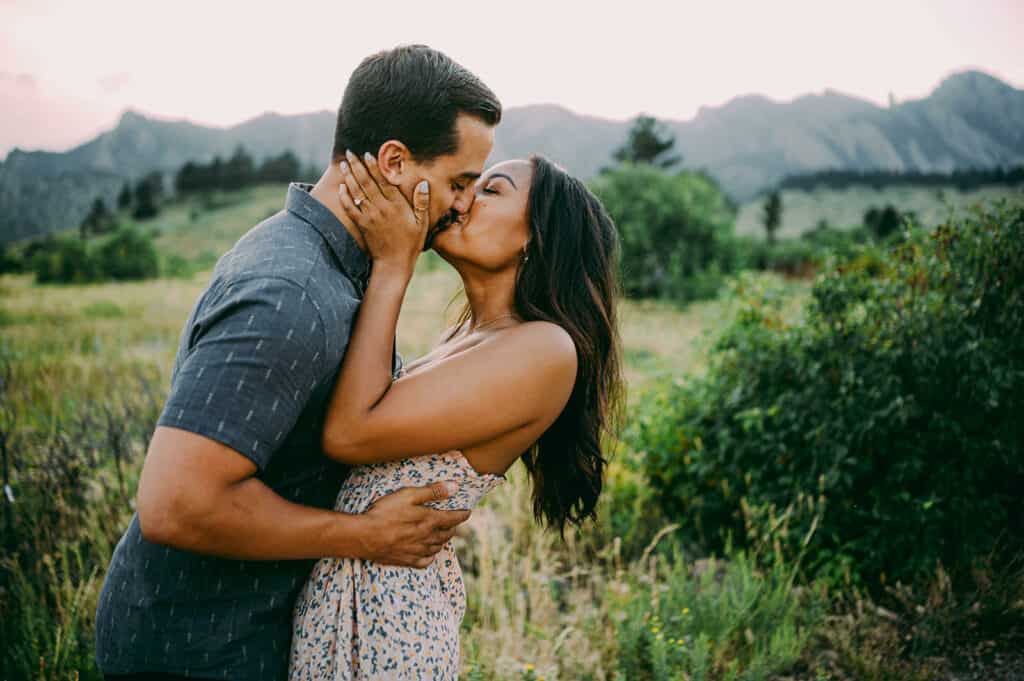 The Boulder Flatirons Vista Trail isn't the only gorgeous trail you can go to when looking for Boulder engagement photo locations. Check out the incredible views at the popular South Mesa Trail, complete with lush forests and meadows, to make any engagement photo stand out.
The Boulder South Mesa Trail sits along South Boulder Creek and is peppered with colorful wildflowers, ensuring you have plenty of dynamic options for your engagement photo session.
There's no shortage of trails in Boulder, and if you're looking to explore a few trails along your journey, you can also consider the beautiful Davidson Mesa Trailhead.
This memorable trail is backdropped by the beautiful mountains, making for a perfect view to give your photos an extra edge. Davidson Mesa photos are perfect for engagements and speak to who you and your partner are as a couple.
In terms of engagement photos, Davidson Mesa Trailhead photos are hard to beat.
One of the most exciting aspects of living in Boulder is that there's no shortage of sights to see and nature to explore. Walden Pond engagement photos are increasingly popular for engaged couples in Boulder for various reasons.
This gorgeous location is not only a wildlife habitat but includes a stunning trail and five large ponds backdropped by the Flatirons. With plenty of open space and endless sights to see, there's no question that Walden Pond is one of the best spots for your engagement photos.
See The Boulder Reservoir
If you want your engagement photos backdropped by stunning water, your only option isn't Walden Ponds.
Colorado residents can take advantage of the beauty that the Boulder Reservoir offers. 
Boulder Reservoir photos offer no shortage of variety, and whether you want to take your engagement photos on the beach near the water, by stunning grassland and nature, or along beautiful walking trails, the Boulder Reservoir has something for you.
Hit the Pearl Street Mall
While a mall might not be a traditional engagement photo location, this mall isn't quite like any other. Pearl Street Mall boasts hundreds of shops and is an incredibly popular location for tourists and locals alike.
From hosting musicians and frequent festivities to a thriving shopping and nightlife scene, Pearl Street Mall photos never skimp out on variety.
From elegant and classic backdrops to lively and modern scenes, you can have your cake and eat it when you choose Pearl Street Mall as your engagement photo destination. 
Check out some of the best Boulder coffee shops on Pearl Street for the complete Boulder experience.
There's no question that Boulder, CO engagement photos are some of the best out there. Planning your trip is essential if you're coming to Boulder for your engagement photo session.
The last thing you want when it's time to take your engagement photos is to find yourself confused and unprepared–and once your session is over, you won't want to be sitting around without exploring the city.
Here are a few suggestions to plan your trip to Boulder and ensure you love your Boulder engagement photography.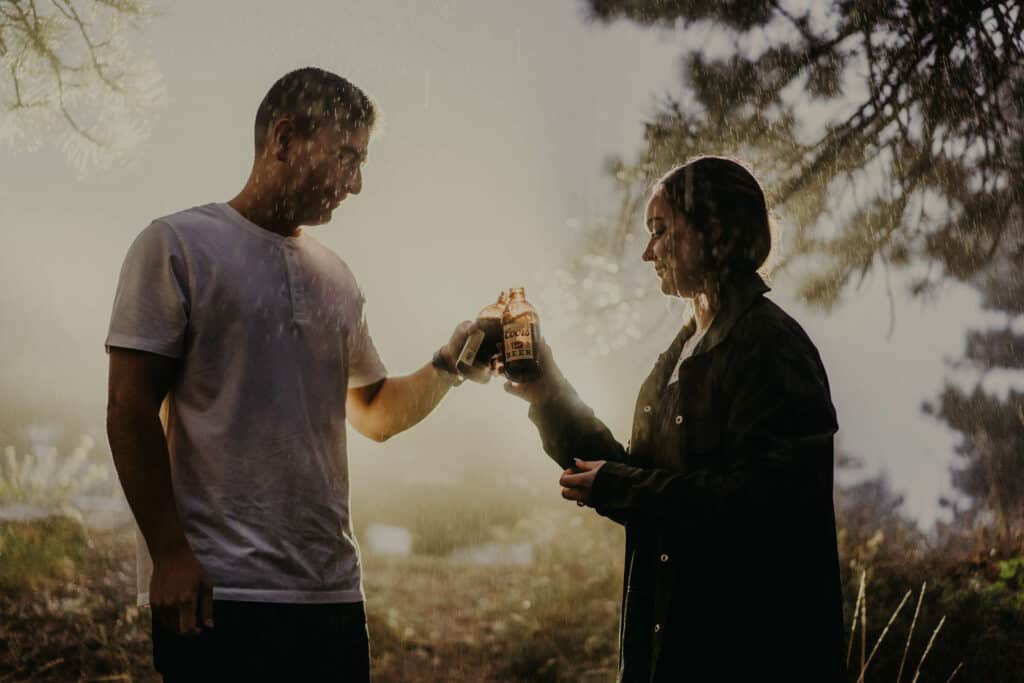 The first thing you should plan before you head to Boulder is where you'll be staying. Though finding accommodations at a reasonable price and location might seem stressful, there's no shortage of AirBNB near Boulder, CO.
If you're looking to stay in an AirBNB, downtown Boulder CO has plenty of options to ensure your stay goes smoothly.
Finding a Boulder, CO AirBNB ensures you won't have to stress last-minute about finding an open hotel room, starting your experience on the right foot. Take a look at some of these awesome options:
Check out the coffee shops
Finding the best coffee shop Boulder, CO has to offer is a challenging–but rewarding–task. Boulder coffee shops are incredibly unique and memorable, and with a massive variety of coffee shops, Boulder, CO is the perfect place for any coffee lover to visit. Here are just a few of the amazing coffee shops:
While on the topic of coffee shops, let's just consider this a hot second. If you are a coffee lover, then we should definitely incorporate one of these shops in your engagement story!
There are so many places to visit in Boulder that getting everywhere in one trip is impossible.
Having a few places you want to stop by, whether you're simply looking for coffee shops in Boulder, Colorado, or seeking a tranquil experience at the Davidson Mesa trail, guarantees you'll get the most out of your trip.
Start your day off by visiting some of the best coffee shops in Boulder and end it at the vibrant nighttime scene at the Pearl Street Mall. 
However you choose to spend your time in Boulder, you won't regret the experience.
Plan Your Boulder Engagement Photos With an Engagement Photographer: Boulder, CO
There are plenty of places to consider for your engagement photos. Boulder, CO, has some of the most unique places to visit and take your engagement photos in the nation, with the following stunning locations accessible to visitors with a permit:
Walden Pond Boulder, Colorado

Eben G. Fine Park Boulder, CO

Boulder, CO Flatirons Vista Trail

Lost Gulch Overlook Boulder, CO

Davidson Mesa Colorado Trailhead

Pearl Street Boulder, CO

Chautauqua Park Boulder, CO
Look – there is so much more to Boulder than I could ever put on any list! So the best way to plan an amazing adventurous engagement session – is to talk to me! Let's get to know each other, and let's plan your awesome engagement session with me as your engagement photographer.