Are you thinking about eloping in Colorado?
 Boulder, Colorado, is such an awesome elopement destination. With plenty of places to elope in Colorado, you'll have no shortage of options when you choose this charming city.
My experience as a Boulder elopement photographer has led to the discovery of Colorado's many hidden gems.
From an adventurous mountain elopement to quiet, intimate spots, I've seen the best of the best when it comes to places to elope in Colorado.
This elopement planning guide will help you figure out how to plan an elopement wedding in Boulder, Colorado, as I take you through the best places, tips for eloping, and more for an unforgettable experience.
Elopement vs. Marriage: The Difference Between Elopement and Wedding Ceremonies
Before we get into the details of getting eloped, I'll answer the question you're probably asking: is there a difference between eloping vs. marriage?
Ultimately, eloping and marriage are two unique ways of tying the knot, and each holds different significance for the couple.
Elopements are much smaller gatherings, and the term traditionally described a ceremony that occurs spontaneously, in secret, or in a highly private manner without the knowledge of many guests.
In modern times, having a traditional wedding vs. elopement is an intentional choice by couples. Many couples that choose elopement seek a more intimate, personal wedding experience instead of the expectations associated with a conventional wedding.
I Want to Elope–But Why Should I Choose a Boulder Elopement?
Deciding where to elope in Colorado is a hefty task, but if you want to elope, Boulder, Colorado should be at the top of your list of possible destinations.
Here are some of the reasons why I think you should plan your Colorado elopement in Boulder.
The Activities and Boulder Reservoir Paddle Boarding
There are plenty of options for exciting activities to make your elopement one to remember. Want to take a wedding hike for your ceremony and have a mountain-top elopement? 
Boulder has that. Want to have your ceremony and go paddle boarding? Boulder has that, too, in spots like the stunning Boulder Gross Reservoir.
Paddle boarding, boating, picnicking, and more are fun activities you can incorporate into your Boulder elopement.
If you want to elope in the mountains, Boulder is the place to be. The stunning locations and views in Boulder can't be beaten.
Eloping is the perfect opportunity to have fun with your marriage ceremony, leaving you with far more opportunities for places to tie the knot than a traditional wedding.
Eloping in the mountains isn't only exhilarating–it also gives you the perfect place for a gorgeous, unforgettable photo-op.
Simply put, for nature lovers looking to elope, mountains in Boulder are a dream come true.
Along with plenty of Colorado mountain elopement locations, Boulder has parks and stunning nature to make your ceremony special.
From the nearby Brainard Lake to hiking in Artist Point, Boulder is packed with plenty of dreamlike elopement locations. You can also consider the Boulder Halfway House, one of my favorite places for photographing stunning elopement ceremonies.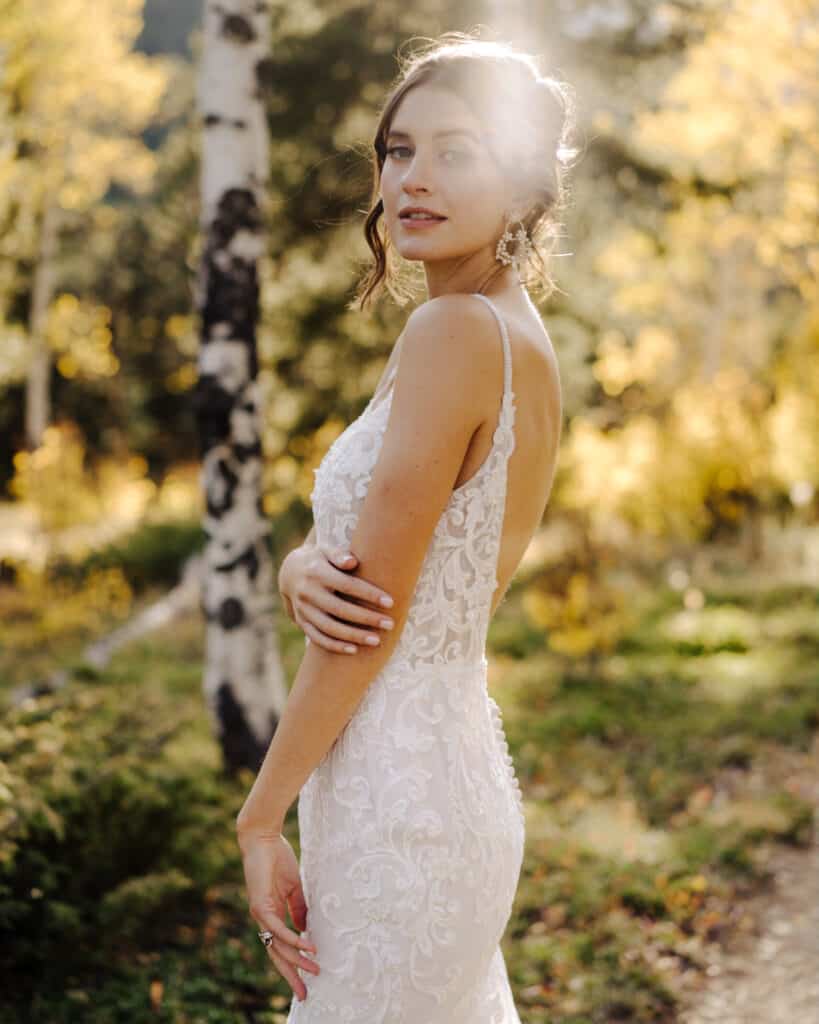 Unbeatable Food and Drinks
Only a few parties are invited to your elopement ceremony: you, your photographer, any guests on your list, and tasty food and drinks. Boulder offers many places to eat and drink as part of your celebration.
Consider a casual round of drinks at the Twisted Irons Brewery or some upscale Corrida Boulder cocktails at one of my favorite restaurants. No matter where you end up, your tastebuds are in for a journey.
Best Places to Elope in Boulder, Colorado
Simply put, if you're looking for the best places to elope, Colorado is the place for you. I won't lie, though–it's tough to choose the best elopement spots near me because there are too many options.
The bottom line is that you and your spouse-to-be will have no shortage of options to plan elopement ceremonies. If you need some help when you're getting eloped, here are a few of my favorite spots to photograph elopement ceremonies in Boulder.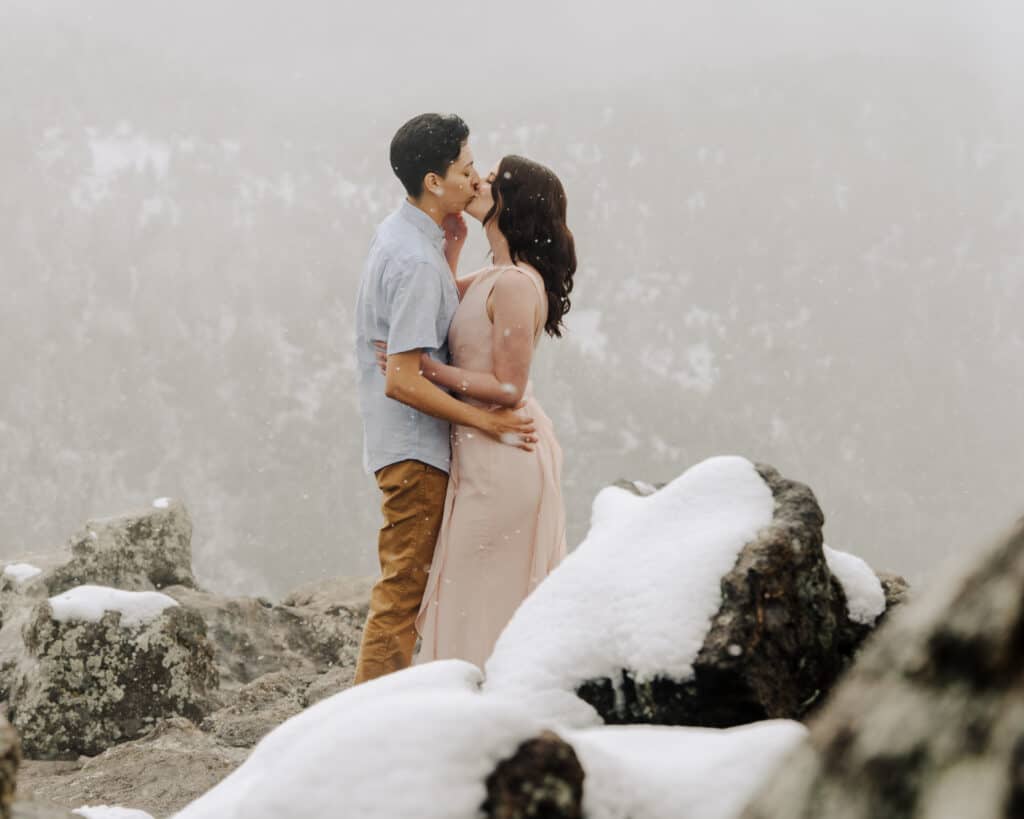 Flagstaff Mountain  is a dream come true for nature lovers that want to see the stunning sights of Colorado laid out before them without hiking too far for it.
Parts of the mountain are open and driveable all year round, making it an accessible and stunning destination for your private ceremony.
Among Boulder's stunning parks is the historic Chautauqua Park, located right by the beautiful Flatirons.
While it's typically a bit more crowded, Chautauqua Park is a beautiful spot in Boulder and perfect for a simple  elopement.
If you're looking for a mountain elopement, Colorado has it all. Combine hiking with the gorgeous backdrop of the Flatirons to have the elopement ceremony of a lifetime and celebrate your love with the person that matters most in your life.
Eldorado Canyon State Park
Hiking and nature lovers will find their dream elopement location at Eldorado Canyon State Park, a spot that's too often overlooked in the grand scheme of Colorado's many elopement locations.
Looking to tie the knot by the water and want to incorporate some adventure into your elopement ceremony? Check out Boulder Falls for a stunning but simple elopement.
If you want your elopement to be about stunning views, you can't go wrong with a ceremony at The Peoples' Crossing.
This gorgeous spot has breathtaking rock formations and views of the mountains, making for a peaceful ceremony with unforgettable sights for the perfect photos.
How to Elope in Boulder, Colorado: All Eloping to Boulder Questions, Answered
If you're ready to elope to Colorado, you probably have some leftover questions you need answered.
So how do you elope?
Here are some common questions I get about Colorado elopements from curious couples.
How Can I Plan My Elopement in Colorado?
Above all else, make a timeline. While elopements are perfect for couples that don't want all the stressful planning that comes with weddings, you'll still need to work out some details.
Anyone wondering how to plan elopement ceremonies should have specific dates for their ceremony and consider hiring a wedding planner for elopement.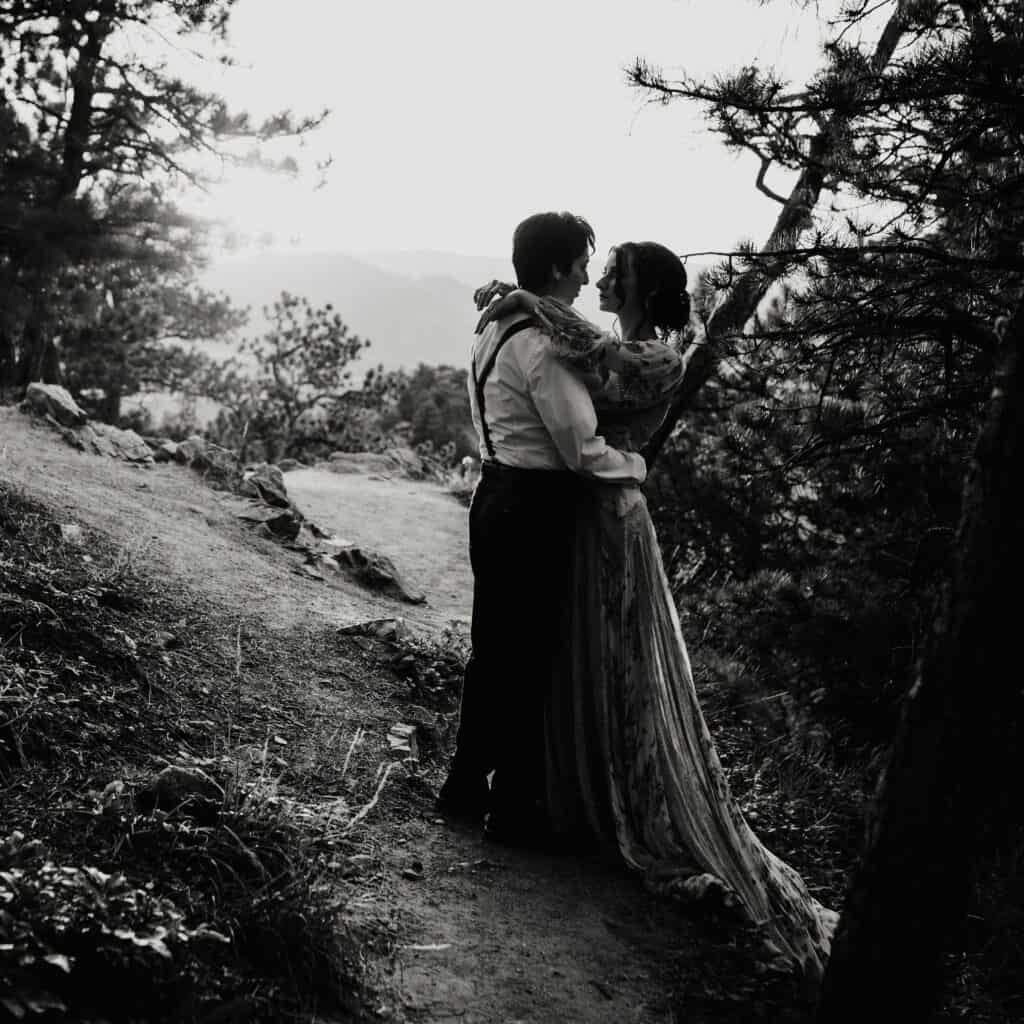 Do You Need Witnesses to Elope in Boulder?
Not in Colorado! If you're planning an elopement, Colorado is the place to go–a Colorado elopement wedding doesn't require an officiant or any witnesses to be legally married. I have a whole blog about self-solemnizing marriage ceremonies here.
Another fun fact about Colorado is that it's one of the only states that allows for self-solemnization, meaning you can marry yourself–no officiant required!
Because of self-solemnization, Colorado is a premier location for elopements.
Where Should I Get My Marriage License?
If you're eloping before the wedding, you'll still need a marriage license. Connect with the Boulder County Clerk and Recorder offices to get this process going.
So, what do you need to elope? Whether or not you're looking for free elopement locations near me or willing to spend extra on reserving a spot, for most locations you'll need a permit to have your ceremony with guests. Most of the locations we talked about are part of the OSMP system, which allows y'all to have your ceremony without a permit if there are no guests present and your photographer has a commercial permit (I renew mine every year).In order to have guests you need to reserve on of their shelters of picnic areas here. 
Make sure you complete this process in advance to avoid last-minute issues. If you have any doubts, talk to your photographer and they'll help you!
Where To Stay In Boulder Colorado
Before you head to Boulder, make sure you have accommodations prepared. For transportation on your elopement day, consider getting a Green Ride Boulder vehicle. 
There's no shortage of AirBNBs, hotels, and other places to stay in or near Boulder, Colorado. Check out some of the following options:
Looking For a Boulder Elopement Photographer?
If you're looking to elope, Colorado is the perfect place for you. Planning your Boulder, Colorado elopement means you'll need a photographer to capture the beautiful memories of your happy day.
I offer Boulder, Colorado elopement packages to make your elopement ceremony one to remember. Contact me today to set up a photographer for your ceremony.