If you are seeking a wedding venue with a horticultural setting, a few acres of land, and rich history behind it, consider a wedding at Terrain at Styers.
Terrain at Styer's in Glen Mills, situated 40 minutes from Philadelphia, stands on the historic site of the J. Franklin Styer's nursery.
Many couples fall in love with this Glen Mills wedding venue due to its surrounding natural beauty. While it seems natural, maintaining a home garden is truly a labor of love. Think of a 5-acre garden filled with bright flowers and lush plants; that's Terrain at Styer's garden center.
Either way – this is a beautiful venue to exchange wedding vows.
A few notable things about this Glen Mills, PA wedding venue are that it is:
Accommodating to guests with superb accessibility
An inviting BYOB facility – encouraging guests to bring their favorite beers, wine, and liquors (if they want to)
Respectful in providing all barware, glassware, bartenders, and most mixers and garnishes.
Terrain at Styer's At a Glance:
Events: Weddings, Special Events, Corporate
Terrain Gardens Wedding Cost: Pricing varies, depending on season and time of wedding.
Capacity: 30 – 110 Guests
Address: 914 Baltimore Pike Glen Mills, PA 19342
About Terrain at Styer's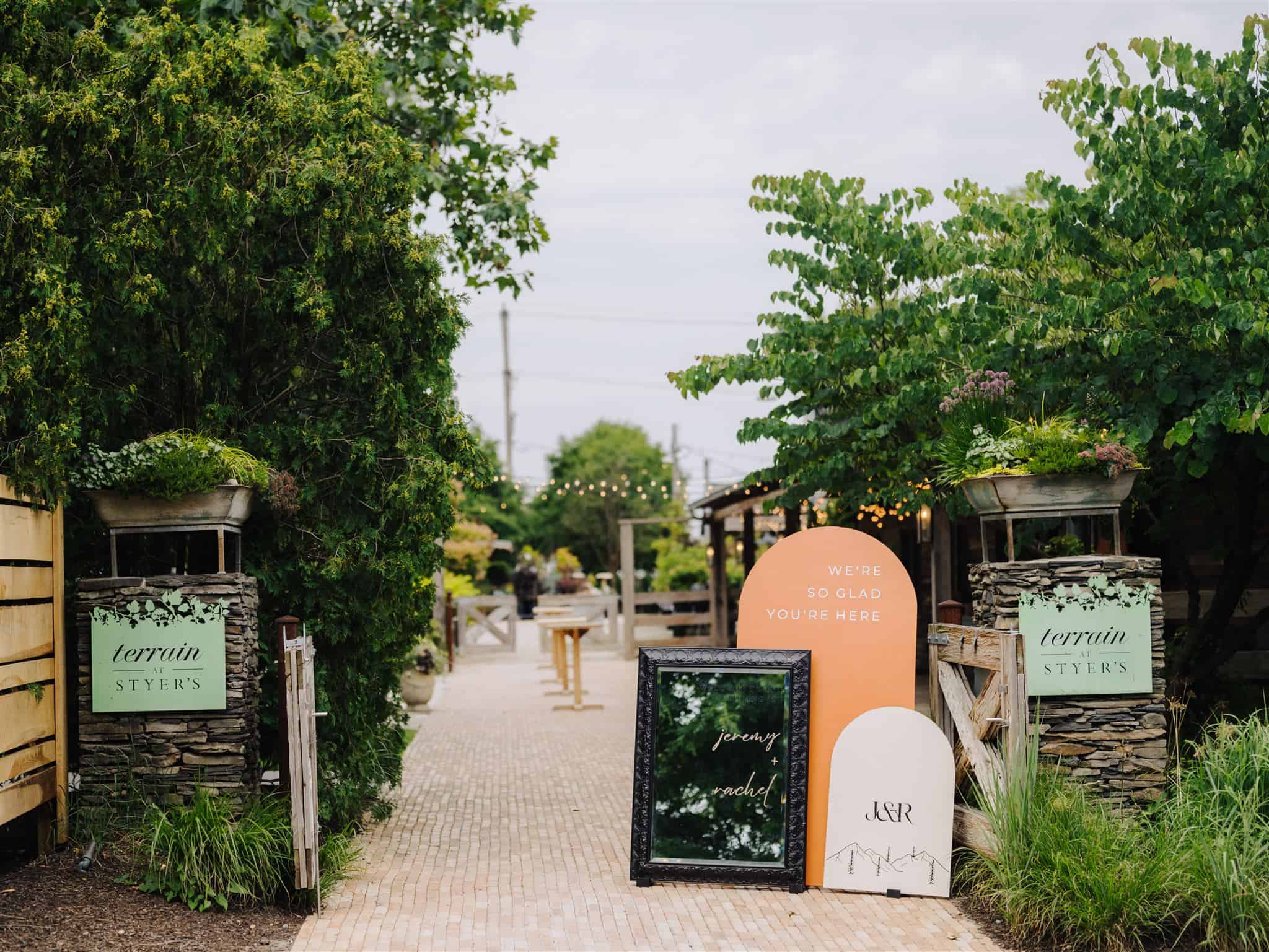 Ceremony and Reception Locations at Terrain at Styers
Ceremony Gardens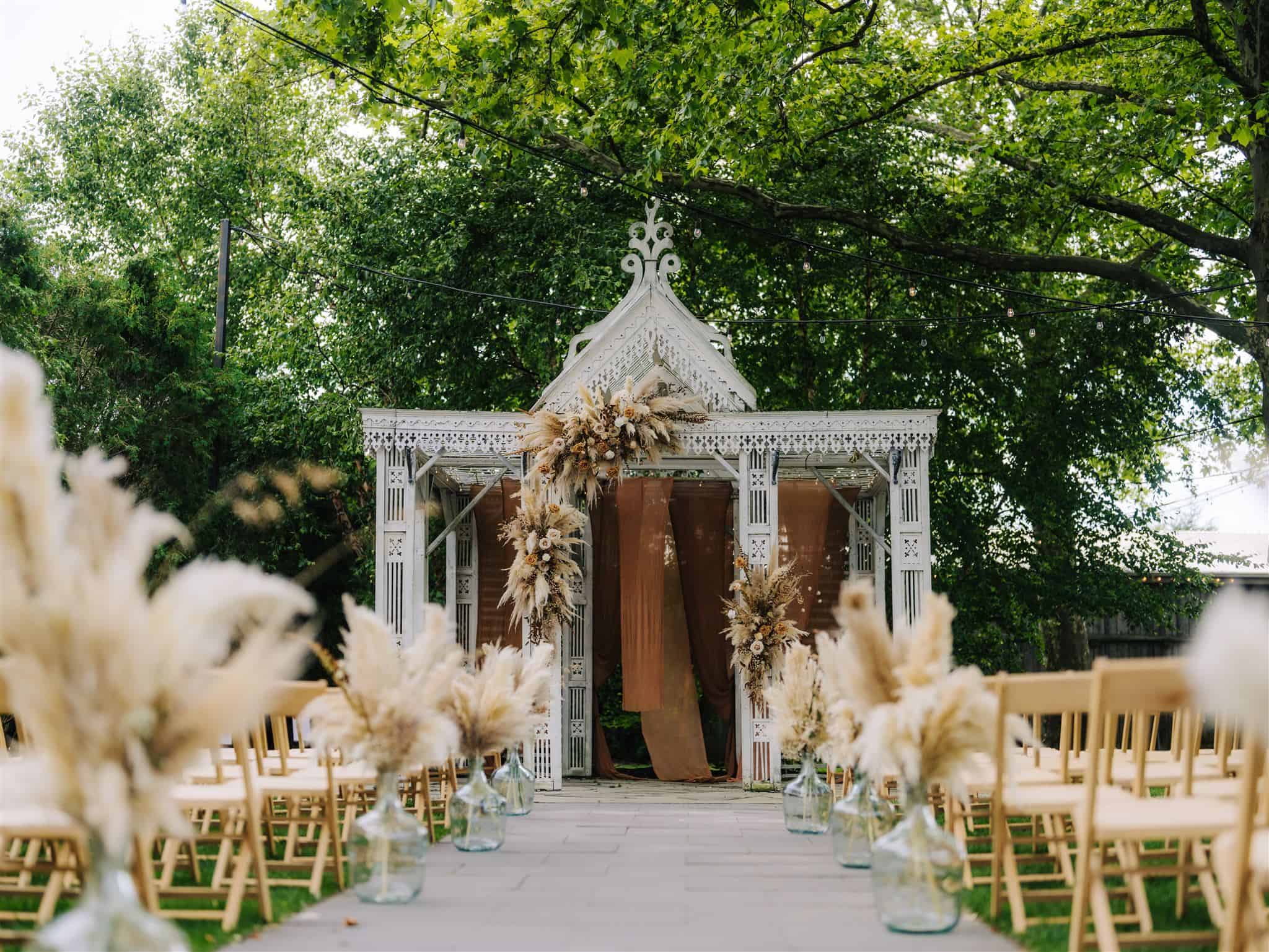 The outdoor Ceremony Gardens feature a beautiful stone walkway leading to a wooden wedding temple imported from India. Surrounded by old sycamore trees, your loved ones can watch you exchange vows in the beautiful wooden chairs provided by Terrain.
In regards to locations for portraits, this is also a great spot to have your first look.
The Garden Shed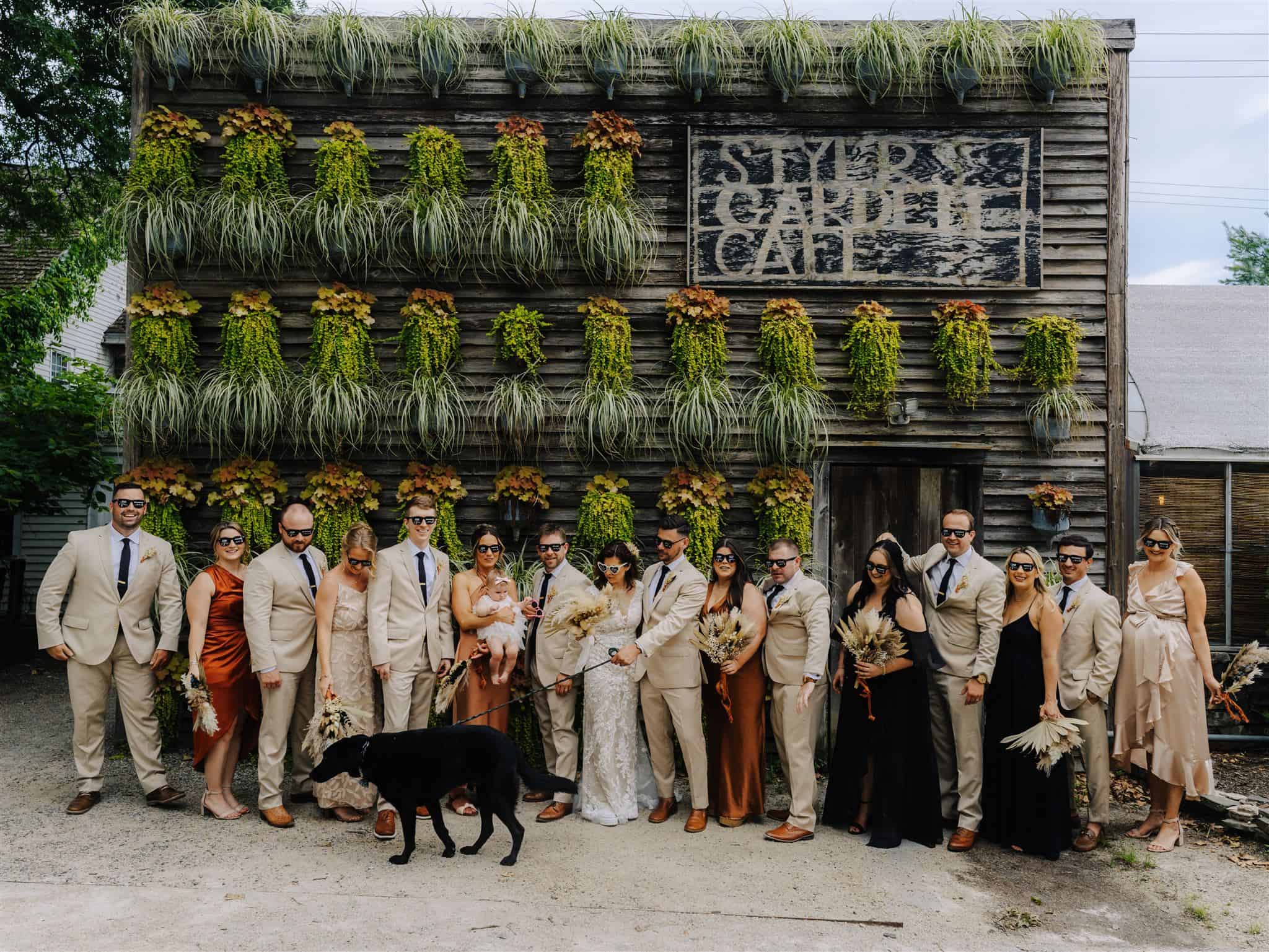 The Garden Shed functions as your wedding reception space! With a floor made from beautifully rustic wooden beams along with tables and chairs to match you can't go wrong. The space holds a maximum of 110 guests.
Oh yeah, did I mention that this place is BYOB? Bring your own drinks, signature cocktails, etc. and they'll provide the bartenders and barware.
You can have your formalities inside the garden shed or in the brick courtyard next to the ceremony space.
The Hot House
When it gets cold or the weather is bad the Hot House functions as an alternative indoor space for your ceremony.  The Garden Shed directly attaches to it, so your guests won't need to walk far! It's also a beautiful space for a first look, portraits or extra cocktail hour space.
The proximity to the Garden Shed is also a HUGE time saver, which can make planning your wedding timeline go smoothly.
The Mushroom House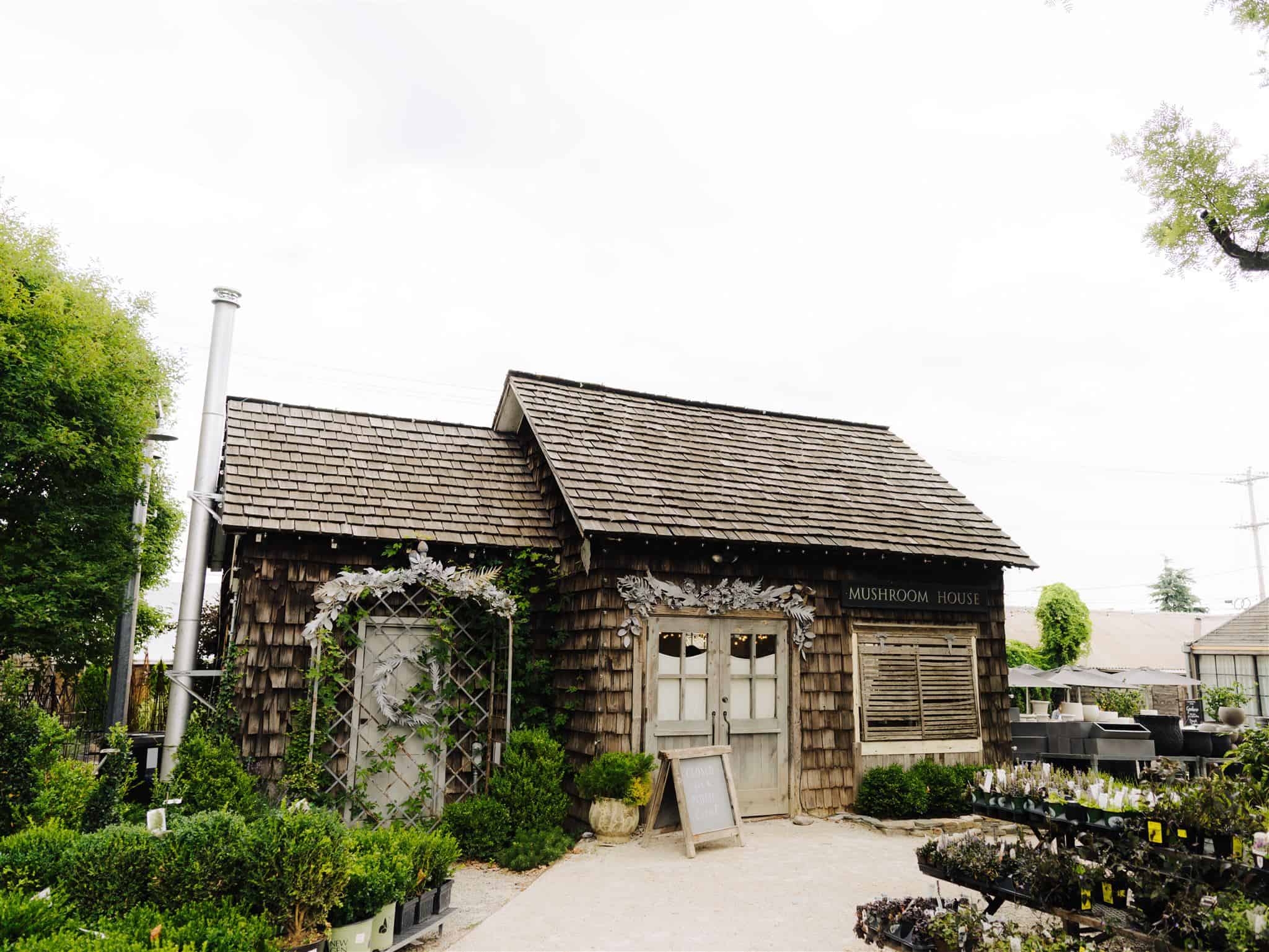 The owners lovingly restored the historic Mushroom House to serve as both a couple's suite and a bridal suite. You can take a break here with your partner, hang out with your wedding party, and get ready.
Occasionally, couples use this space for intimate elopement-style weddings, hosting private dinners for up to 15 people. And yes, of course, it has string lights inside and out!
Wedding Amenities at Terrain at Styers
Exclusive use of the venue on your wedding day
In House Catering featuring fresh, locally sourced ingredients
BYOB Services
Ceremony Rehearsal
Indoor & Outdoor Ceremony areas
Indoor Reception space with a dance floor
Wedding Suite
Furnishings (ceremony chairs, dining chairs, dining tables)
Full Place Settings + Barware
Seasonal Décor
Signature terrain fire-pit
Event Management
Service Staff
Wedding Vendors at Terrain
Catering at Terrain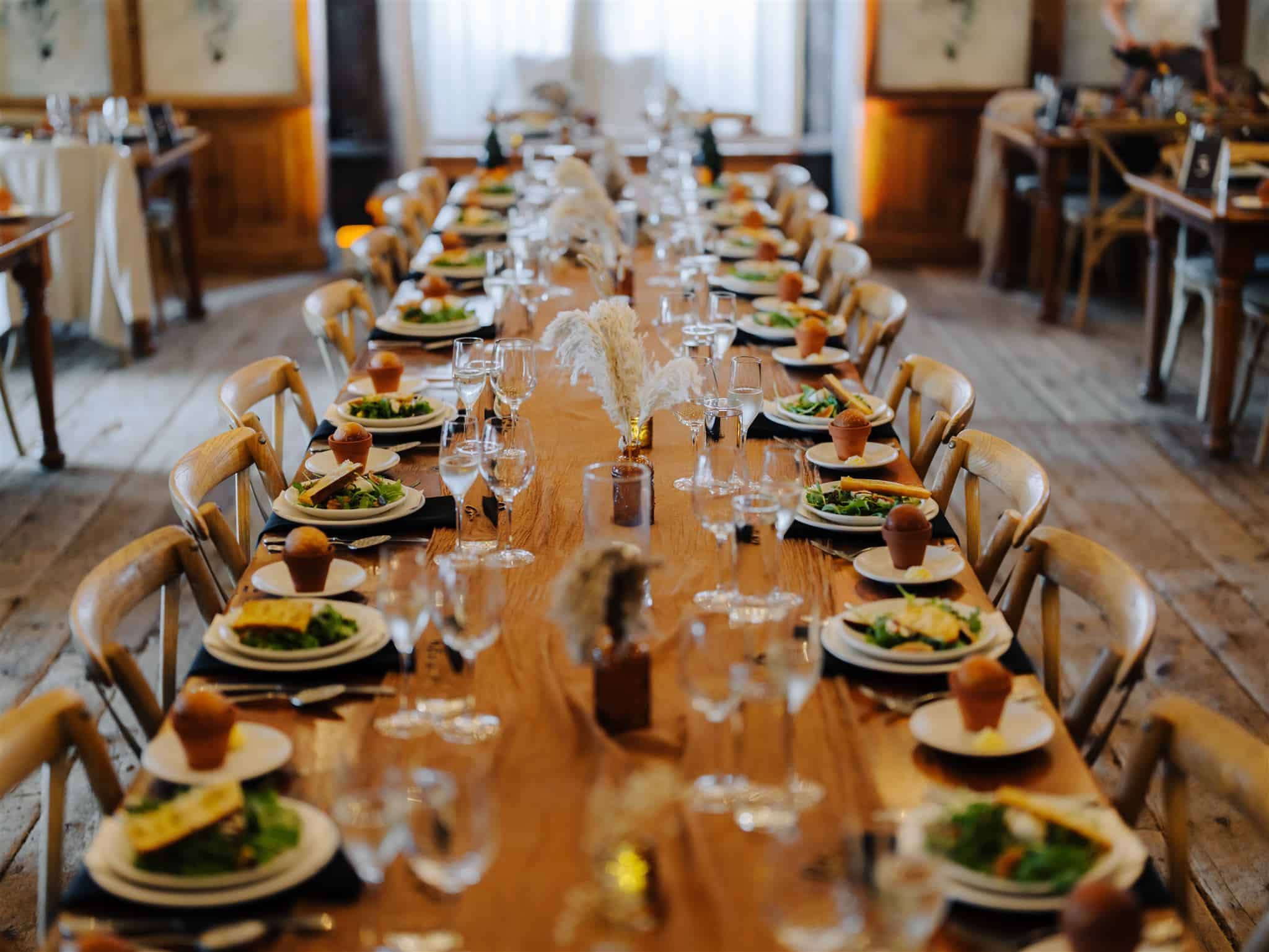 Terrain provides their own food and let me tell you – it's fantastic! Their in house catering uses fresh locally sourced ingredients. Make sure to try their bread pots!
Florists at Terrain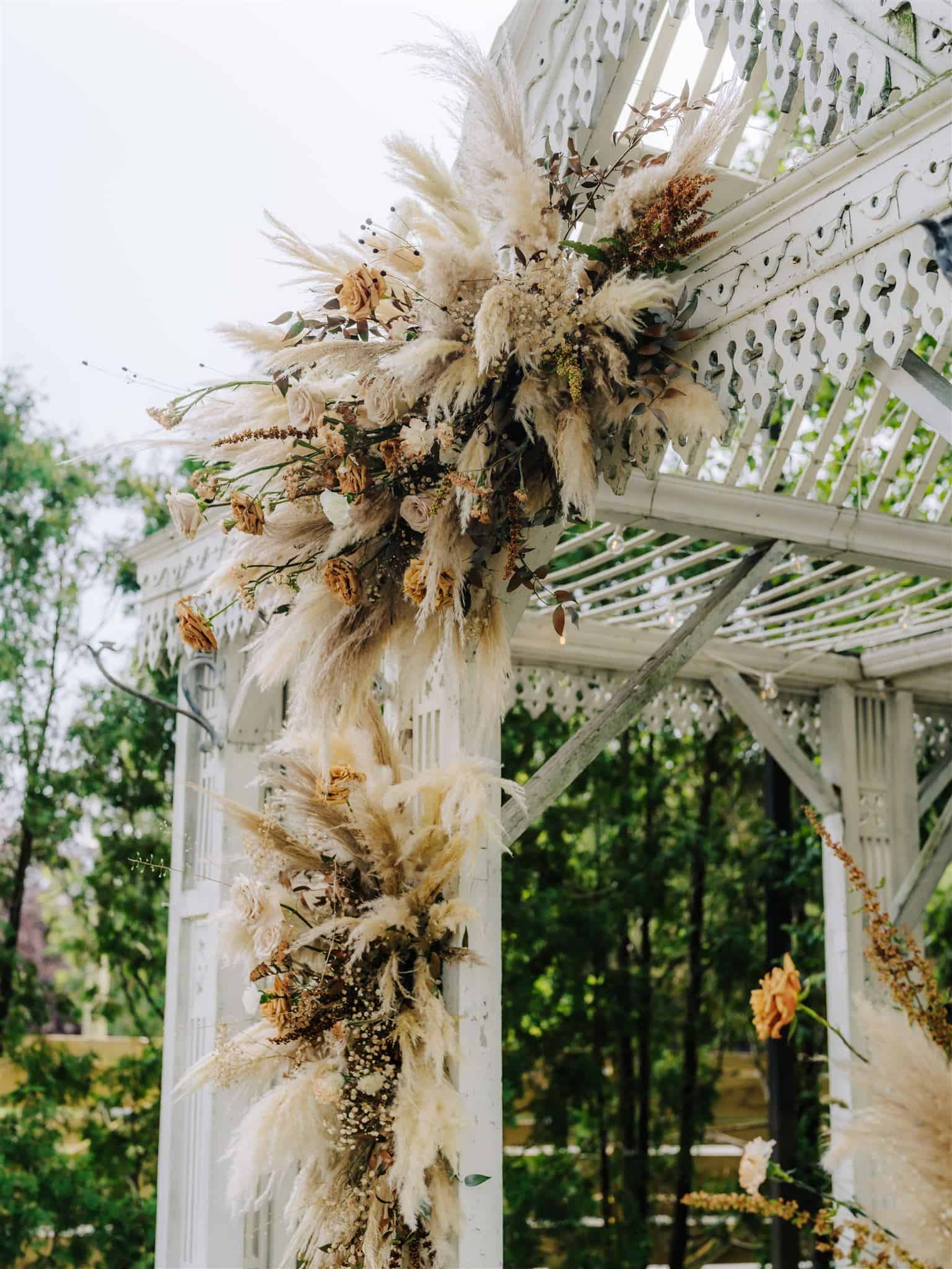 You're free to pick any florist, but I've witnessed some that truly excel at that venue!
Branches and Blooms
A Cottage Gardener
Videographers at Terrain
You can choose any videographer, but here are some I recommend for excellent results!
Mist and Moss
Small Forest Films
Joe Torres
More Information about Terrain at Styers
Who was Franklin J. Styer?
Franklin Styer, a Pennsylvania Quaker and botanist born in 1900, led the way in the cut-flower business. Like his father who brought mushrooms to Kennett Square, PA, Styer became known for his fresh-cut peonies. These flowers became highly sought after, with the New York City Flower Market snapping up his entire production.
Terrain at Styers Weddings
Terrain at Syer's is easily one of my favorite wedding venues in Glen Mills PA.  Any time I'm able to connect with Courtney (the coordinator) I get a little excited.
Terrain at Styers photos always give me a little shiver down my spine, because this event space really has my heart.
Other Events at Terrain at Styers
Anticipation for your wedding is an entire celebration – from the time of engagement to your honeymoon. Whether you choose to marry at Terrain at Styers or not, consider hosting your Shower or Rehearsal dinner here.
The Garden Shed is available to guests who book 3-4 months in advance for showers. Typically, they reserve these events for the months of January through March.
You can also  rent the Garden Shed for Rehearsal Dinners from Monday through Thursday.
While not wedding related, they do offer the Garden Shed available to corporate events as well for up to 110 guests.
Get Married at Terrain at Styers
I've already mentioned it, but I'm a huge fan of this venue. It's a family style venue that offers great food and drink in a stress free environment for any special occasion. Don't just take my word for it though – you can actually take a self-guided virtual tour too!
If you want  to get married here, then fill out this form! I'll connect you directly to the people over at Terrain.